We squeezed in a trip to the NCState fair this weekend! DH had a meeting in Raleigh, so the kids and I went with him and went over to the fair after his meeting. It was a long day for Luke, he had spent the night at a friend's house and they were up VERY late! So by the time we were on the way to the fair..it was way too much for Luke! :) Thankfully during DH's meeting he calmed down a LOT, and we managed to have a great time at the fair. We gave them each an amount of money they could spend and let them make their own choices! They both decided that 5 tickets at $1 each for a ride was way too much! They managed to make friends with an older guy at a ring toss game, and spent $2 and ending up having 200+ chances to toss the rings! They were supposed to have ten chances! Course they didn't win anything, but they had a blast trying!
Check out these pumpkins! That biggest one was 600+ pounds!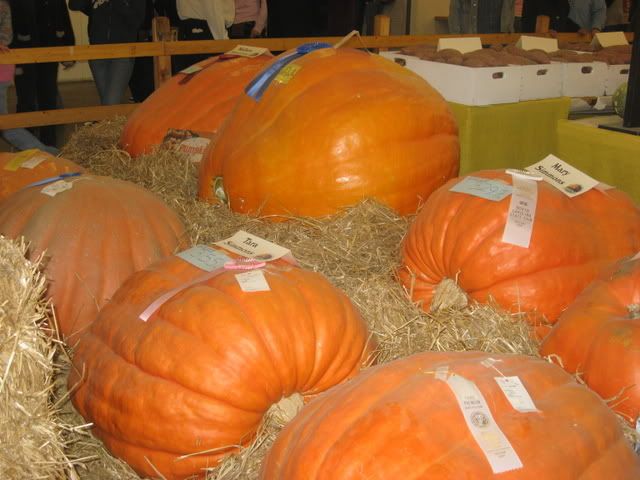 Check out these piggies! Weren't they cute??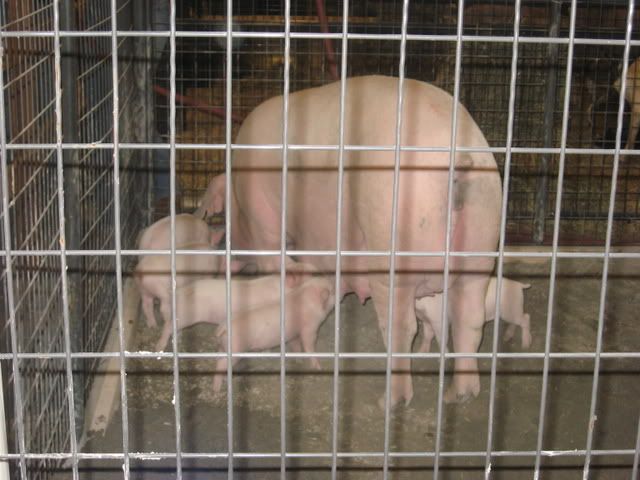 Andrew decided his $5 was well worth the jump on the trampoliny thingy! I wish my camera took better pictures in the dark, but with all the lights, etc. it was hard to get a good picture! That's him way up high in the red shirt!
This is Luke with his Dad at the end of the day! I love this picture!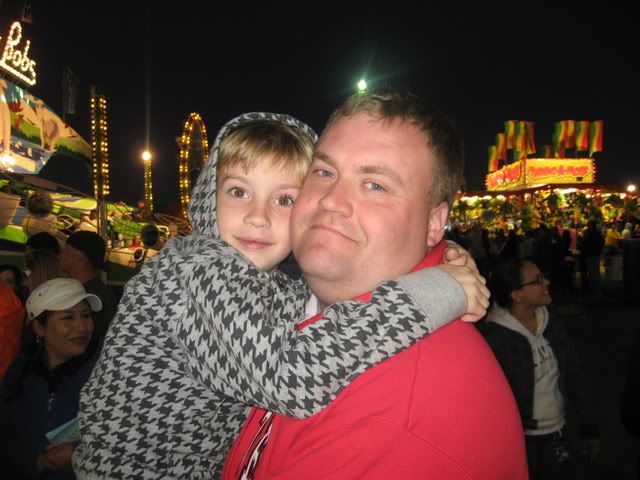 After the disasterly finishing job on the coffin, I decided to finish some other stuff! :) These are by JBW, stitched over one on 32 ct. I just really love them! I have another tree ready to do the finishing, and a lark too! I've got about twenty stitches left on a stocking.
I'm not sure who this is by..my friend loaned me the pattern. I was just going to put cording on it, but while I was putting pins in to have the cording dry...I decided I liked the pins! So I left them in there! It's supposed to have one leg in a boot, and the leg with the shoe is supposed to have a knobby knee...But I like my stuff symmetrical! :) So I put matching shoes on her!
And after a few rounds at
Fair and Square
, I finally decided to finish one. Okay, so all the pins need replaced.. I was just trying it to see how it worked! I know I have to cut off that trim (duh) but how do I finish it off, w/o it unravelling or looking bulky?
It looks a little crooked, but it's not in real life.. it must have been sitting funky on the table!
Last Friday was Luke's last football game. He was very happy with his trophy!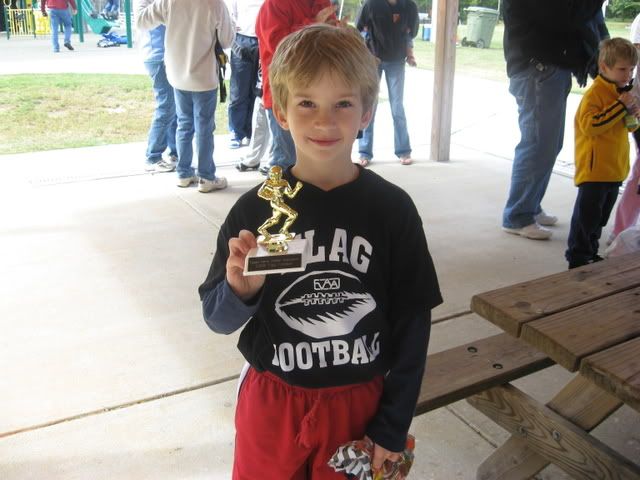 And last, but not least I forgot that Monday was really Monday! And on Monday's I do my SAL with
Becky!
So basically my real Tuesday was my pretend Monday, and I stitched on mine on Tuesday. I have Joseph and baby Jesus stitched..it is so cute! But I forgot to take a picture..duh! Oh well, I think I had enough pictures for this post as it is!