Oh boy! :) It's only been two weeks of summer, but it feels like a life time! I've hardly gotten any stitching done, there just isn't enough time in the day! Our first week of camp, we were running wide open 6am-11pm and by then I just didn't have the oomp to stitch! I am responsible (volunteer) for all the Bible Clubs that the youth do. The first week we did 3, this next week we'll do 4, and then 3 and then maybe only 1. We do the same one everytime, but there's still a lot of work involved. Our kids (11 and 8) are going with us. They had a blast (we thought) riding bikes, hanging out with big kids, etc.etc. But my 8 year old has been tough! I hope it's just the age, and not my sweet boy turning into a crazy man!
Enough of my real life.. on to my stitching life!:) I put together a sewing bag for the summer. I knew we'd be back and forth a lot and I didn't want to have to repack every weekend. I've actually only managed to finish my Fair and Square exchange. Which is really late, but thankfully Gabby was understanding! I stitched a little Germany flag for her and an American one for me. I had my entire DMC set with me, but alas NO BLACK! Duh! Turned out good in the end, cause I had my colors to the German flag wrong! Duh! So I fixed that and will mail it tomorrow. (almost a week late! ugh!) I got her little package today and she sent some gorgeous red dyed thread! Love it!
Besides the F/S exchange, I'm working on a new series from a magazine. Off the top of my head I can't remember which magazine it is. But so far I have Spring, someone sent me Summer and I think Autumn comes out soon and then Winter. They aren't my normal "style" but I really like them. Plus stitching on 14 ct aida in the car or late at night is easier than my normal over one stitching!:) So figured I'd go easy on myself! I've only started this one, this week...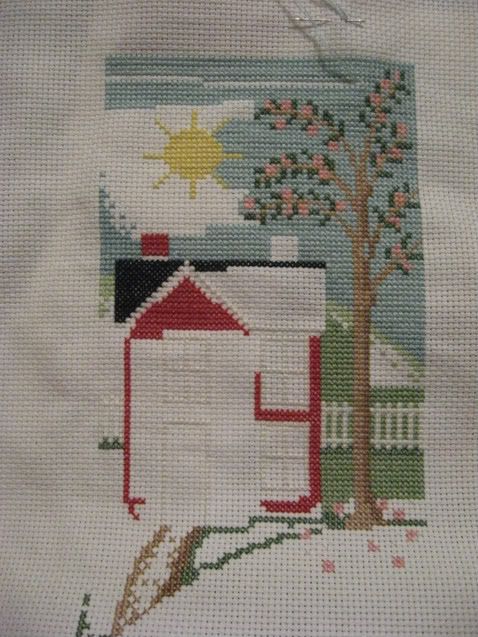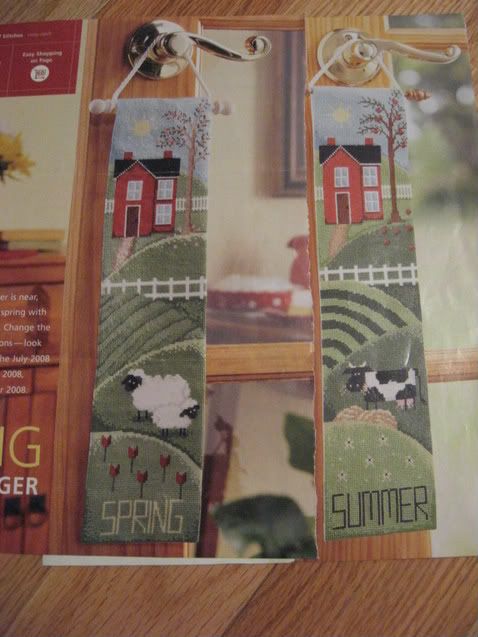 I have this PS Nativity in my bag. I'm stitching it over one on 25 ct. I really love it, but haven't had much time to work on it.
I found this little needlebook in a magazine and LOVE it! Haven't started it yet!
Then this Lighthouse pattern is in there too. My stitching momma Linda gave me some blue fabric that will be perfect.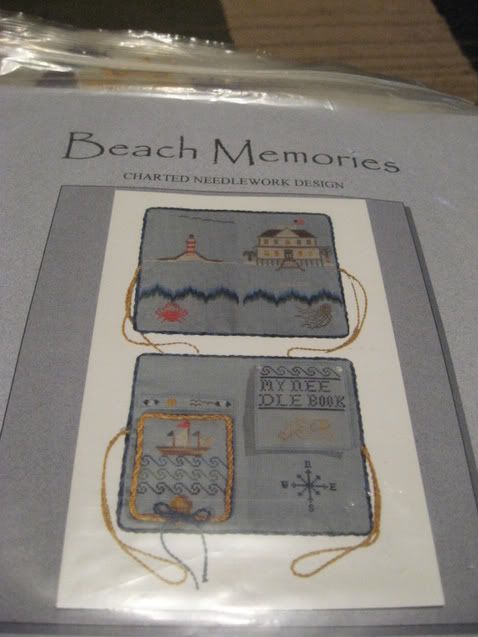 I forgot I had this green one going too. It's a six paneled little needlebook thing. I loved stitching the square I am showing you. I actually forgot it was in there!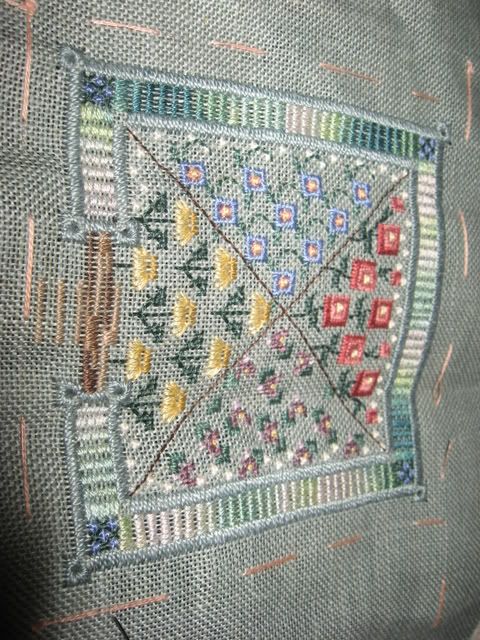 Then there's a few little things here and there! Wait, I forgot one! This is called Maker and Mender. It's really gonna be pretty, but I haven't even begun to start it yet!:)
We'll be gone now for four weeks straight. This first week we'll have 450 youth, but it's at a location where we aren't responsible for EVERYTHING! So it should really be a pretty easy week. Once I get the teenagers trained in VBS, I'll get to go teach the 3rd graders about world missions. It'll be fun and a break from teenagers too! Then the next three Saturdays, we'll be moving to different mission sites, and doing work there for that next week. These last three weeks we'll average 150-170 youth, and we'll be responsible for 100%, 24/7! So I doubt I'll get much stitching done!
Pray for my family! It's gonna be stressfull! It has the potential to be a great adventure.. but with all the things going on with my 8 yr old, it has the potential to be a disaster too! Pray for patience for me, and for a way for me to figure out how to parent him to his abilities and his personality! Ever feel like a failure?! I'm feeling like one with my 8 yr old. Thing is: he is adorable, and funny, and silly, and a load of fun. But with that comes this irrational, easily upset, easily frustrated 8 yr old! He HATES to be "bossed around"... how do I teach him the difference between being "bossed around" and being "parented"! I don't want to shrug it off, cause I don't want a miserable child! I'm just not sure where to go from here!!