And I even have a horrible picture to prove it! I can NOT seem to get good detailed pictures of my stitching! That drives me NUTS!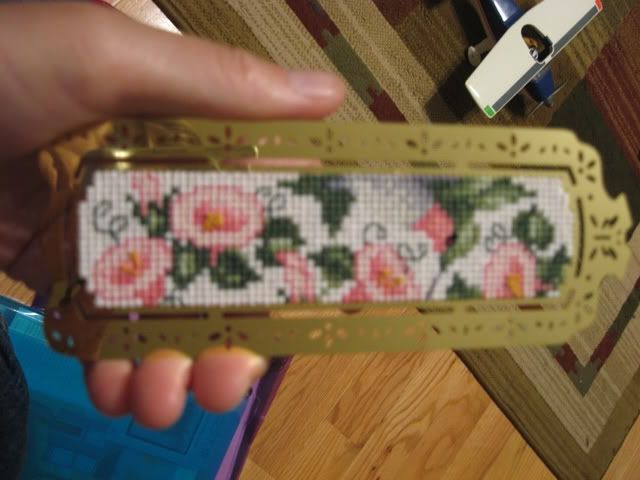 I also finished the pattern that will be made into a needlebook. There is a seperate stitched basket that will attach under the tree and that's where I'll put the scissors and there is a seperate door to attach too. Somebody at the retreat said to hold needles behind the door! The fabric is really a gorgeous light pink.. not sure why it's looking so funny colored! I'm going to take them outside so I can try and get a better picture tomorrow. I do like that there's lots of texture to the pattern! The little pears are all stitched over one and so are the words. The little green specks by the tree are to tie a ribbon through to attach scissors. The initials are for my DH, my two boys and myself! How's that?
Here's a fuzzy picture of the darn pear basket that took me THREE hours to get right! The darn door took about an hour too!
I finished a little fob for an exchange, the stitching for another needlebook, and my smalls for an exchange. Didn't do it all today!:) But I did get pictures of all of them, and they are all so darn fuzzy! I'm gonna wait and take a good one tomorrow!
Sara
p.s. I knew I forgot something! See those light pink basted lines around the main charts? I did those EXACTLY as instructed. Then in the finished directions it tells me to CUT on the basting lines. Check out how close the basting line is in the middle of the two squares! I'm going to cut around the outer edge of both 1/2's and then just sew them together. Don't you think that will work better?