The day we left, my sister took the boys out to the Coast Guard base to see all the airplanes. Here they are in the helicopter like the ones Mike used to fly. One of his jobs was to man this basket when they rescued people. The boys thought it was "awesome"!
This is the three of them facing the helicopter hangers. You can see the awesome Alaska mountains in the background covered in snow! And there are three Coast Guard boats in the background. The one furthest away is the one they got to tour. Can you tell how cold the kids were? It was only about 18 that day.
My brother owns two Subways in town and my sister is the manager of them. They have a daily deal with the local jail. They provide their lunches every day for the prisoners. Christmas day is no exception...since the store was closed the boys went down with their Aunt Debbie and made the subs for the prisoners.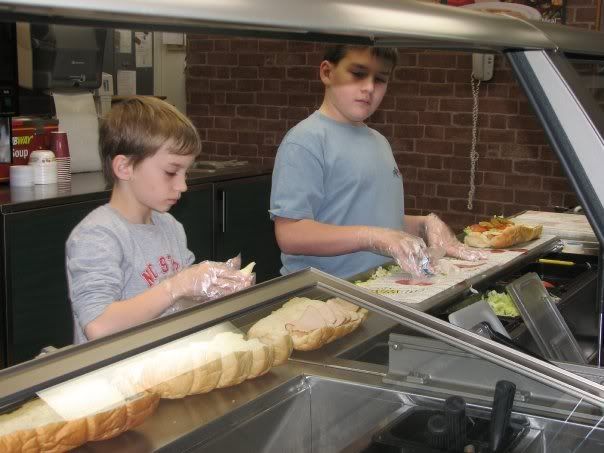 The family joke is that Mike can sleep anywhere! This is at the pool when we took the kids swimming.
This a view of my parents' house from their backyard (aka the beach) Their house is the brown one. When I was growing up there, it was only the brown one and the white one to the right. The space to the left of my parents is where my older brother will be building his house one day. This picture was taken at a really low tide. When the tide is high, the water will be all the way up to the grassy edge.
Did you know Alaska beaches are black?! :)