I love being raised in Alaska, really I do! But living on a remote island in Alaska sort of limits the day trips! :)
DH had to preach at the Outer Banks in NC this past Sunday. So we woke up early on Saturday and went and spent the day together. We went to the Wrights Brothers Memorial. It was very cool! This is a monument on top of a huge hill. But on a big flat field they have the spot marked where they first took off. Then there are four more markers that mark each attempt. The first three are very close together, the fourth one is quite a distance down the field. There is a little walkway to the last marker. As the four of us were walking down there.. I couldn't help but imagine back when it was actually happening! I could just imagine the people running alongside the plane as it was actually flying, knowing they were history in the making! I told the kids..imagine how much screaming was going on! They must have been so excited!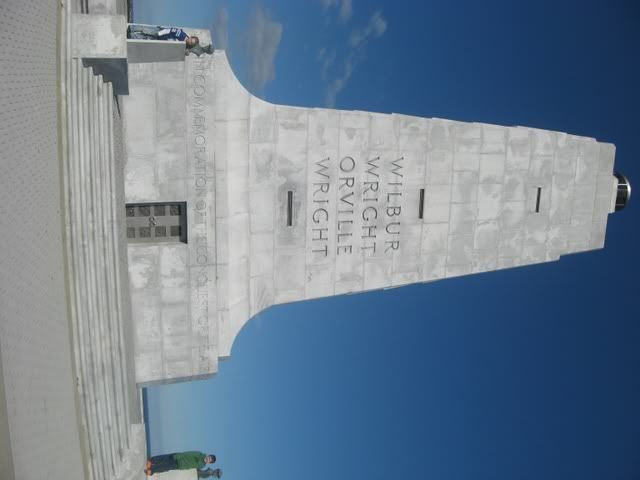 Dh asked me if we wanted to go play on the sand at Jockey's Ridge. Whoopie is what I really wanted to say! But of course I said sure! :) Well, we got there and it was so awesome! You could do out and climb and play and crawl on these huge sand dunes! And it really felt like you were in the middle of a dessert somewhere! Anyway, the boys had a blast! As you can tell from the pictures!
It was just dune after dune, with views of the ocean on both sides!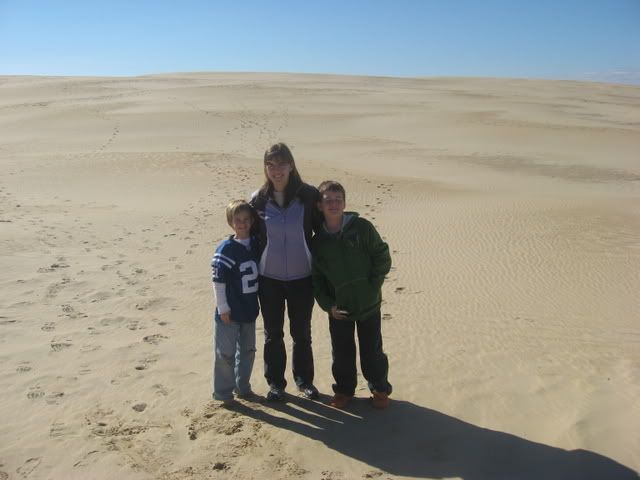 Aww! So sweet! Why don't they act like this in real life? See all the cool markings on the sand, I thought that was so pretty.
So much for "whoopie"! I'll go back any day,even if it is a 3 hour drive!