Yup! My friend Linda called and talked me into going to the LNS in Raleigh. She didn't have to do much talking, trust me! But I had to take Luke along with us. He did fine, I think! Really great for 95% of the time and that little 5% was a bit rough, but he apologized and we survived!
My whole purpose in going was to get the fabric to start Flower Power.. FINALLY! Course they didn't have a piece big enough, I need a 32 ct piece that is 42 by 28! It's gonna be huge! I did get some fabric and thread I need for a pattern
"Our House Rules"
that my friend Sandy sent me. Course the idea of new fabric and new thread and new pattern sitting there all ready, made me want to start it! I got quite a bit done while I was watching the Olympics! Here's what I've done this evening. I think I was a little anxious to get a picture taken, cause it sure is fuzzy! Click on it for a better picture! :)
I did get my 989 too! Yeah! The pattern is actually kind of boring, just 14 ct aida, and not my normal style! But I really like it for some reason! Don't let it fool you, there are TONS of stithes in there! Here's where the project was last time I posted...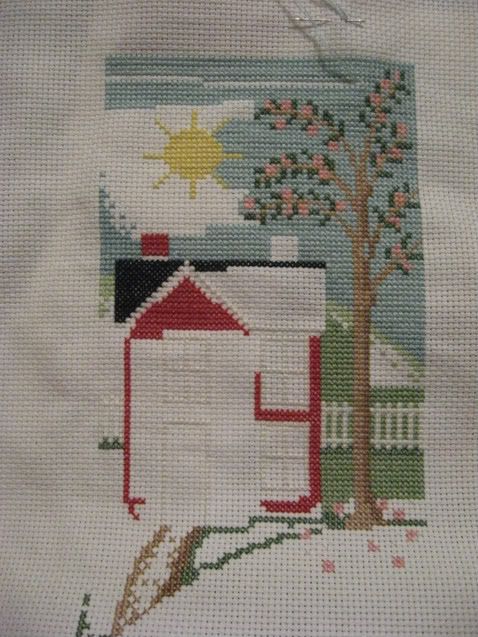 And here it is after this week mainly. I think I picked it up twice during our time we were gone.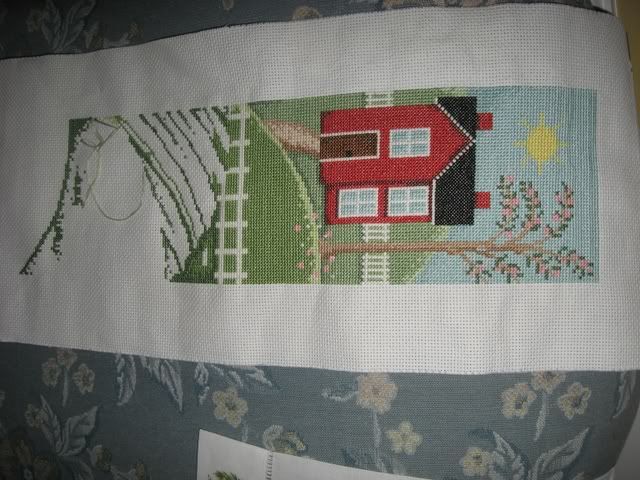 I also started and finished my Fair and Square exchange this week. It's due Aug 11th, so it's not like I'm a procrastinator or anything! I used parts of the LHN Schoolgirl Lessons pattern. I couldn't decide between two threads. The tanish one is by Ozark Sampler and I used that for the squares. The other is a Dinky Dyed thread, I think it's called Christmas something or other! But I loved the colors on that one! So I made the little fob to go along with it!
Here's the front and back of the fob put together. I even used the leftover thread to make my own braid! Love that little thingy that makes the cording!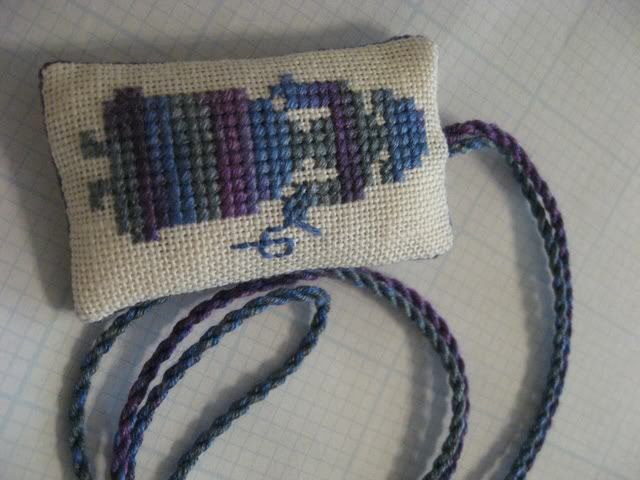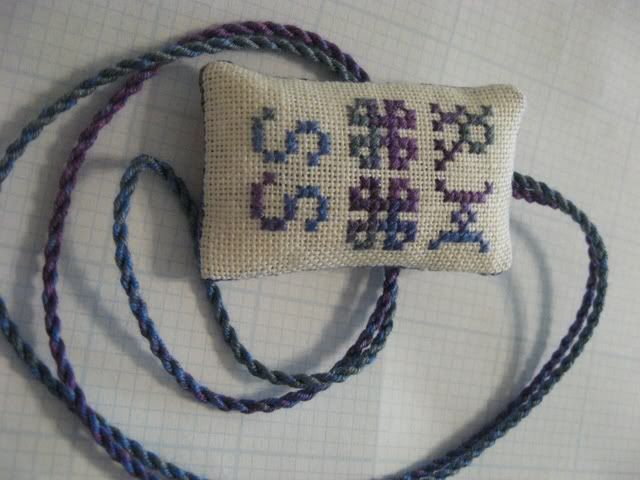 I'm calling it quits early tonight! Last night I was up until 3:30am, and had a conversaton with Luke around 4:15. But surely I fell asleep those 45 minutes, right? Anyway.. can't do that again! I need some sleep!