Now why are they blurry? If you click on them, they open up and are fine, but on my blog they look blurry! Here's a few more! This is a scissors case, made specifically for a pair of scissors, which of course I don't have! I won this pattern in a Bingo game! It came with the fabric and the two Dinky Dye threads.. loved them!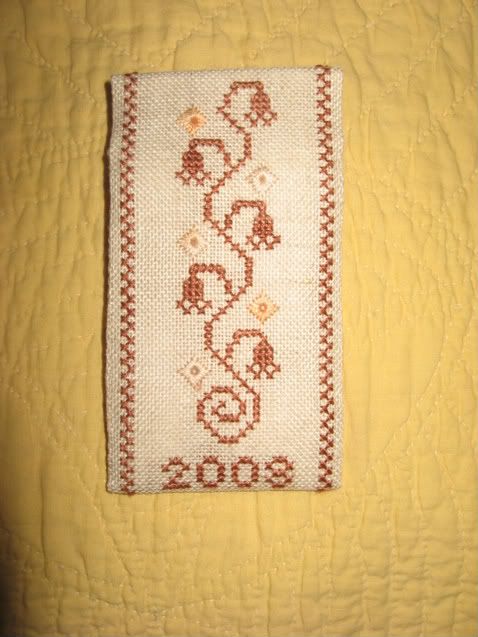 These pictures were taken on my grandmother's quilt! Check out all the detail in that hand sewing! The entire thing is like that.. it's awesome!
This one actually turned out okay, I think the main problem was I used too thick of a fabric. My little strawberry thing really messed up, but don't tell anybody!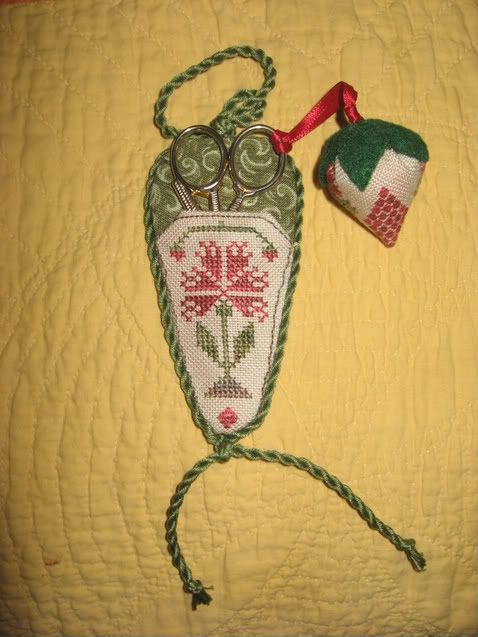 Now for the UGLY!:) I really did follow the directions! Apparently I just can't cut four hearts out of cardboard the same size! And if you put that fray check stuff on it, it will make your hand dyed pinks bleed! It said to cut the cardboard bigger than the stitched piece, but next time I'm gonna cut it smaller, cause I'd rather the cording cover a bit of the stitching, then leave those ugly gaps between the outer row and the cording. This is the one where I had to use thicker cording!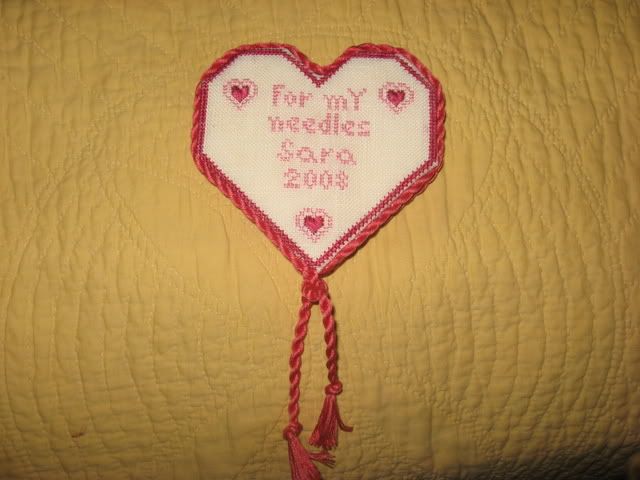 The cording was supposed to be opposite on the front and back, so you could easily tie it together.. which I did.. but then when you put them front to back, the cording ended up being on the same side! And I so carefully did it opposite! DUH! :) Lesson learned.. hopefully!
I still have a few more I want to try my hand at finishing! I did finally (I think) figure out my cording drill! Love that little booger! :) Thank goodness for all that .10 DMC! :) Thanks for looking!