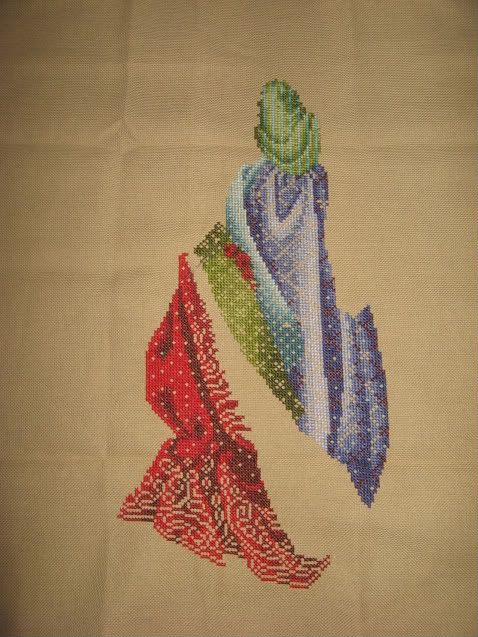 See the red part of the skirt? Yup, it's all wrong! Not only is it wrong, it's off rows and columns! I started it off the wrong green stitch! The symbols were very similar and that's the excuse I'm using!
After much help from my friends at
123mb
, I've decided to just frog it! They had lots of great suggestions, however I am not capable of that!:)
I have a graph follower, I rarely change colors, never change the actual pattern.. I'm a good follower of directions!:)
So last night I watched Dancing w/the Stars, plus two episodes of Miss Guided and am not done with the frogging yet.
It is annoying, isn't it that it comes out so much quicker than it goes on? There are at least four shades of red, plus one blended needle! Wah, Sob!
When I start back, I'm going to star from the blue section and stitch the white, maybe go up and add the baby and put a head on the body and save the red until later! The dumb thing is I'm not 100% sure I like this pattern, and the fabric seems to small. I've measured it and double checked 100 times, and it says it's right, but it seems like it might be a tight fit! We shall see! I'll keep you updated!