I'm not the world's best finisher.. but I've been making a smalls basket and wanted to add a few more things to it. The fob has lots of neat specialty stitches...including the pinwheel stitch! Very fun and not to hard! It's in the four corners of the fob. I used a hand-dyed thread called Vineyard from my friend The Dye is Cast. :)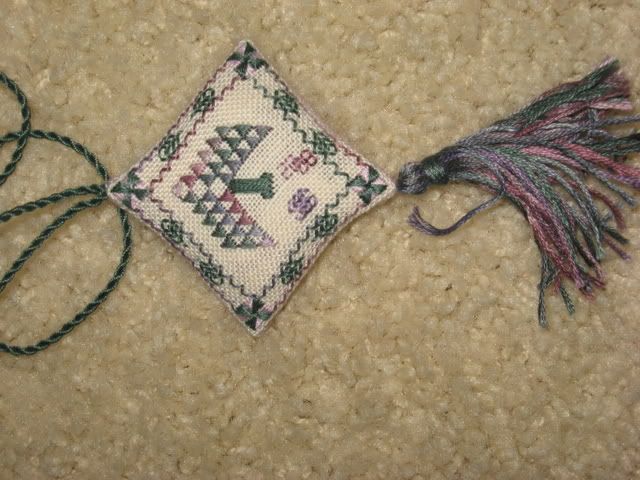 Then this little birdie was in a magazine that I've wanted to stitch for a while. It was to be done on 9 ct. fabric. Well I stitched it on what I had, which turned out to be 7 ct. So the darn thing is HUGE! Those blanket stitches don't hold too well, when it's so big of a stitch count. So I had to put some of that fray check stuff around the edges. Then I decided i didn't like that so much, so I stitched one on 32 ct! :)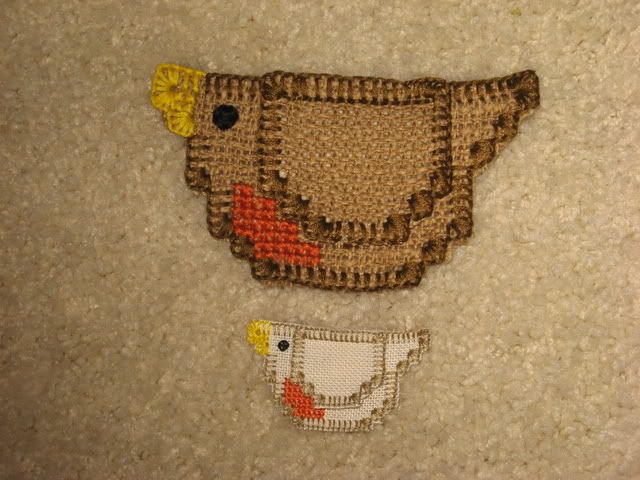 What are they?! Well a needlebook of course... The poor little birdie can barely hold ONE petite john james needle! Oops..forgot about that part!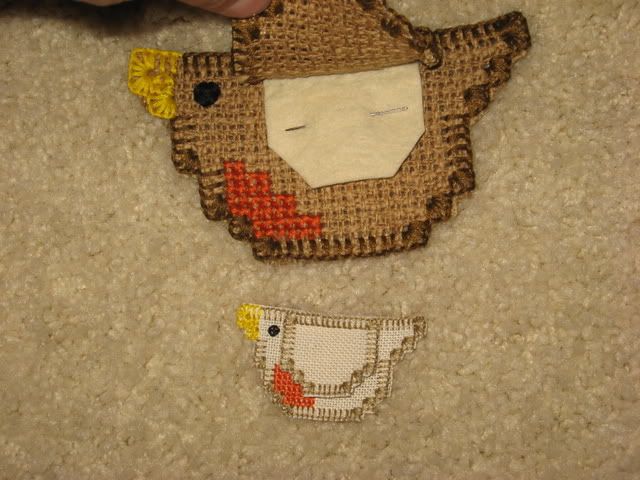 Then I wanted to do some floss tags. Darn, if it doesn't help to read directions first. I almost ruined the humingbird one, cause I didn't make the hole first and it sort of messed up!:) I just added another little metal thingie to the other side and it worked out fine. On the bunny one, I made the hole first and then put in the metal thingy and boy that works much better! :)
Looking at them now, I wish I would have made the W bigger on the hummingbirds... the W stands for Wilma, my grandma who loves hummingbird! Oh and yes, the one on the back is on upside down! I looked at those birds 50 times and finally decided there was no up or down.. but oh yes there is! Oh well!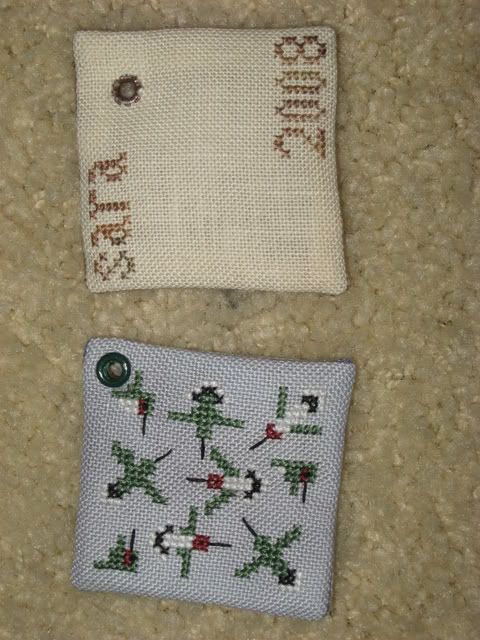 I went to Walmart today and was going to pick up the rings, but I forgot! I even stood and stared at the craft section and thought..don't I need something?! And walked away! So maybe tomorrow!
I made a list of different finishes I want to try! :)
altoid tin, flat fold, cube finish, and I can't remember the rest! But boy it was a long list! I want to make a pinkeep thing.. I did make one, but gave it to my friend
Eva.
I want to make another for myself, plus make one that has a place to hold scissors on the back. Oh, and a
15 sided biscornu,
have you seen those? I'm not going to make it with beads though, I'll just stitch all 15 squares! What to stitch though?! Plus maybe that color wheel that was in a cross stitch magazine lately!:) And an
ort bag standup
thingie! And some day I really want to make one of these
pillows!
Now.. somebody come clean my house and make dinner and raise my boys, so I can do all that! :)
Am I too young to retire?