Did I ever show you this one finished? It's the spring bellpull from a magazine.. I'm thinking it's CrossStitch and Needlework, but I'm not 100% on that! (as usual!) I have a summer one to go with it, and I've seen the Fall one, but haven't bought the magazine yet, and I'm assuming there will be a Winter one out soon.
I've seen this little witch biscornu around the web, it's a
free pattern
... and it's so cute! I love the colors in it! I need to go buy a cute little spider button for the middle! I filled it with those little plastic pellets, so it's really heavy! I like them that way...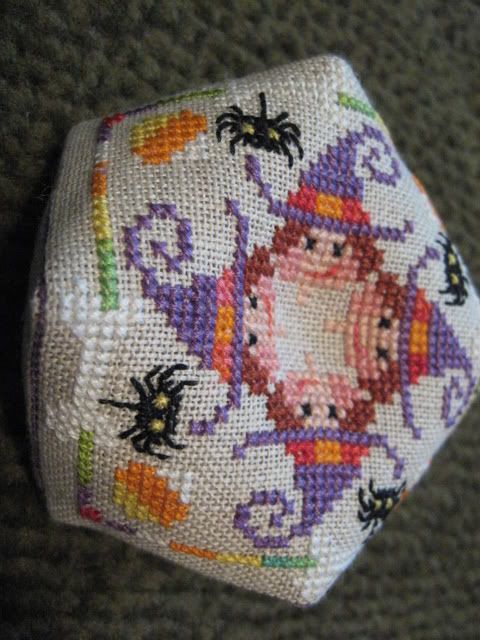 I also saw this freebie all over the web, so decided to be a copycat! I want to get a blue ring to use with it, but don't have one at the moment. Whenever I get to the craft store, I'll look to see if they have any.
This is a pattern that is so much cuter in person, than on the pattern! :) The long skinny part, is to be wrapped around a small oval paper mache box. Then the one with just the bunny will be the top of the box. There other sections are for a tiny scissor case and a needlebook too. I need to buy the paper mache box.
Sounds like I need a trip to the craft store, don't I?! :) Maybe tomorrow!
Here is a picture of my two boys. Andrew is 11 and Luke is 8. It shows their personalities perfectly! Andrew is being very serious about showing me his latest song he learned on the viola. It was Mary Had a Little Lamb! (I've heard it about 50 times already!) Then Luke is running from his friend in the background, and his friend is getting their ball out of the neighbors bushes!!