The other weekend, I managed to squeeze in tons of stitching! :) Started around 6:3
opm
on Friday, I stitched until almost 2am. I was so tired, I was falling asleep with my needle in the fabric, between stitches!
Saturday, up bright and early....back to my same seat! I stitched until 6:30pm. I did eat lunch, supper was a can of soda and some candy. I'm so healthy, I can't help it!
Saturday, my project of choice was Flower Power!! I spent the entire day in a pile of daisies! that's right,
backstitching
---ALL DAY---!! That part definitely wasn't Paradise!
I even managed to squeeze in a few more hours on Sunday, and I even got to move out of the daisies! I'd tell you what patch I went to next, but I know nothing about flowers! I still have most of the pink flowers left to
backstitch
!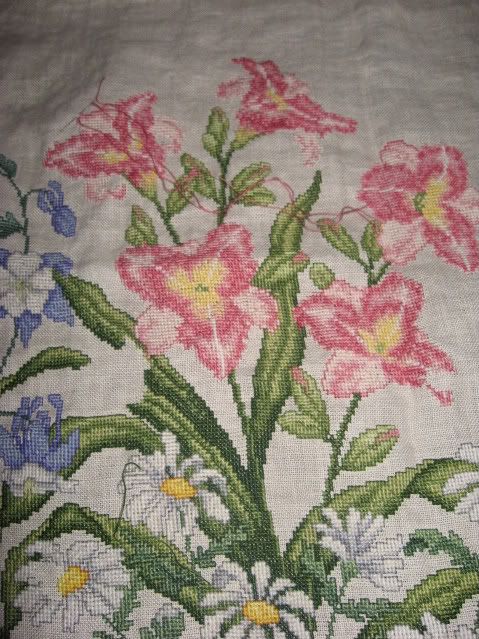 I still have this much more waiting for some of my BS abilities: (oh come on, that's funny!)

Won't have another chance at Paradise, until I head to
Sue

Hillis

' Memorial Day stitch-in!
This will be my third trip... and we have a blast! My
chauffeur
is already making our plans!
And then life will get crazy! Our spring schedule is nearly as crazy as our summer schedule! But I just found out in July, I'm going to get to meet some of my Candian friends, during our trip up there with 60 teenagers! :) Might even get to hit an LNS, can't wait!
This week I've been just working on little things! I stitched something ugly the other day, and Faye made is so pretty! So I stitched Faye something ugly too, but she's gonna have to do the pretty part again!
A new stitching friend did me a great favor, so I stitched her a little something. It's not ugly at all, but I'm going to have to do the pretty part myself.
And I'm finishing up a charity square for a little girl's quilt. Oh and I have a pincushion due to be mailed the end of this month. It's stitched, just need to put it together.
So now you're up to date on my stitching life! Who cares about my other life, right?