These are mostly people pictures! :) I'm not much of scenery type of picture person! I'd rather see faces! If you'd rather see scenery...sorry!

This is the house where we stayed!
This is the view from the top porch!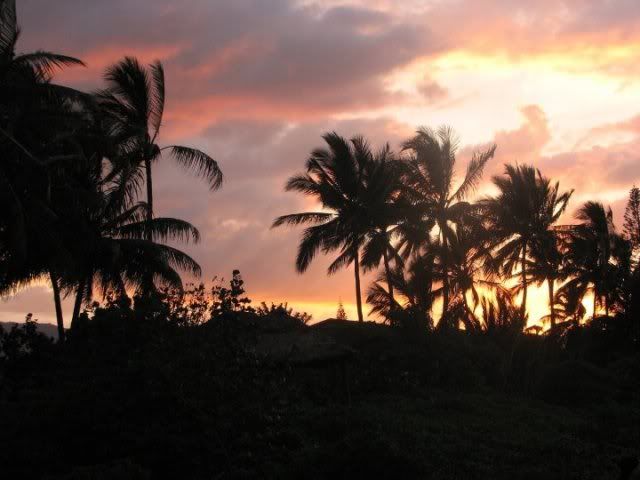 Here's our whole group together! We went to church on the Sunday we were there. We got a little bit lost, and ended up showing up late. Which wouldn't have been bad, if our group hadn't DOUBLED the church size! LOL We totally interrupted the service! Then when everyone was greeting us, the pastor figured out where DH worked..and long story short, DH preached the sermon! LOL He said he'd never preached in shorts and a golf shirt before! He did a great job too!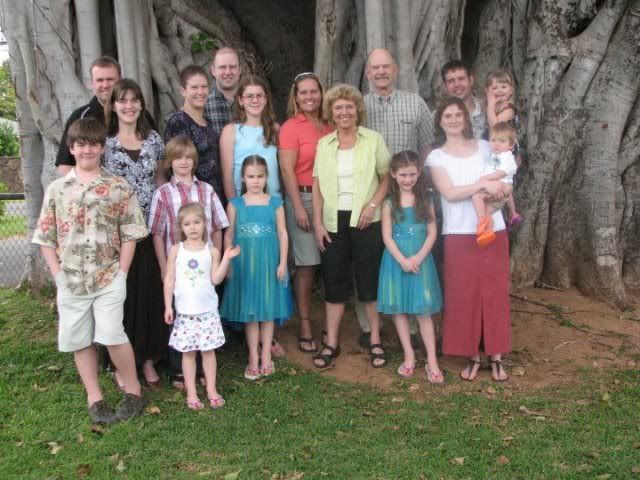 Here are the four "big kids" at the Pearl Harbor Memorial: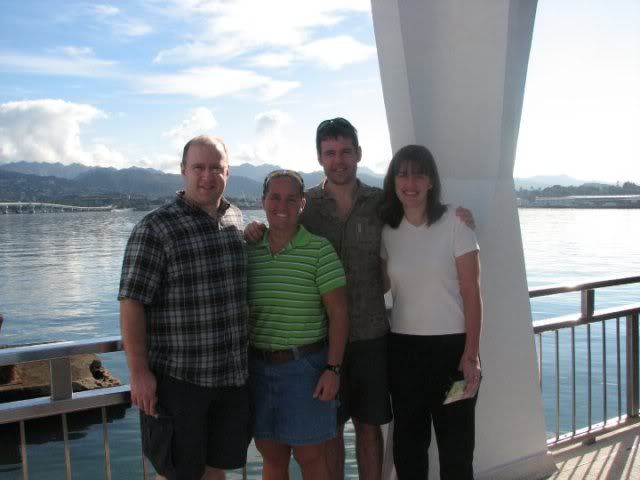 This is my big brother and his wife, you can see the memorial from Pearl Harbor behind them. (what an incredible memorial!)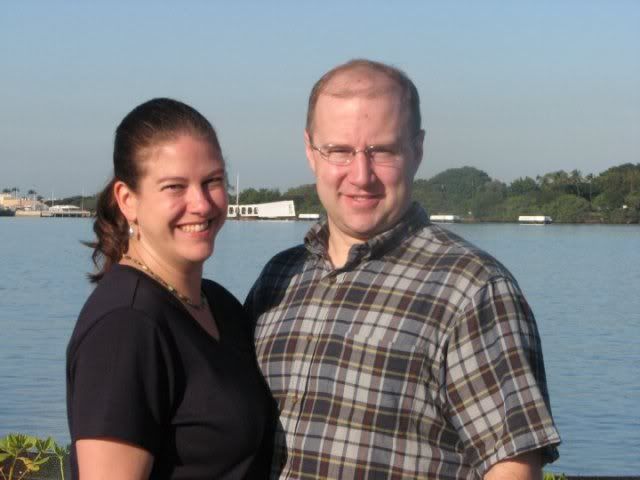 I love these types of picture. This is my big brother with his middle daughter. He has three girls and is great with all of them!


Me and my sister. You'd think the one from Alaska would be the whiter one..but no! She's a fake n' baker! Do you know that term? :)
This is my baby brother...isn't he a cutie? And his wife's name is Sarah too. Gets a little confusing! He calls me "sister Sara" and she is "wife Sara" I'm constantly asking him if he's talking to me or not!
Here he is with his baby, Riley. They call him Rye Guy most of the time. I thought it was silly when I first heard it, but it suits him fine! He took a tumble down five outdoor steps while we were there...poor guy got a few HUGE goose eggs on his forehead!
This is Riley's big sister Anna. Isn't she a poser?! Such a cutie!
And this is Riley's other sister Bailey. Last time I saw her, she was so quiet and shy that she would barely speak to me. We had a great time together this week, we played tons of I Spy! She
is her own person, and is hilarious!
Andrew loved reading books to the little girls. He does such a great job with them!
Luke spent hours building this fort with his cousins! He was devasted when the neighbors came and took the large piece of driftwood from their fort. Seems they really needed it! The neighbors rebuilt the fort, but they never played in it after that! See the little one in the pink? She would NOT give Luke a minute alone! She wanted to constantly hug him, sit by him, eat with him, swim with him, play pool with him, etc. He was great with it, until the last day! Midway through our evacuation, we were riding a train at the Dole Plantation and he said, "Please, Mom! Don't let her sit by me!" For once in his life, Luke got to be the one with all the ideas! The one who controlled all the make-believe play! Thankfully these girls loved it and thought he had "the best ideas ever"!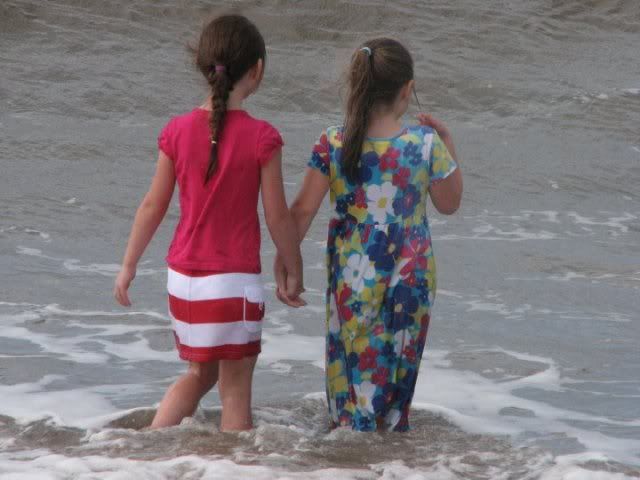 This is Andrew with the oldest cousin Ashley. They have both hit middle school, and it's a different world with these two! (check out my Dad in the background.. that is RARE!)
Last but not least, here's DH and me! This was the morning of the tsunami evacuation! I'm sporting my "woke up at 6:30, packed everything we owned, dragged kids out of bed, packed the cars, shoved breakfast down our throats, go to higher ground" look! Nice, huh? :)

We hadn't been together for forever. In fact, besides my mom and my sister, I hadn't seen any of them for 14 months...of course that means I had never even met Rye Guy!v It amazes me how quickly the kids hit it off! They get together so well, and have a blast! I think this was probably the first time there were no fights...well if you don't count the sibling fights! I try to go home, once a year. We do this big group every two years. Not sure where we'll go next! This house had so much room, that we all loved it and are hoping for another trip back in a few years!
The rest of the gang is all still there...I'm trying not to think about it! Glad to be back home, but the break was great!

Back to stitching, I hope!