My mom was here visiting and decided that she wanted to frame some of the piles of cross-stitch I had under the bed! :) Such a great mom I have, right?
This one is the PS Nativity, stitched over one. I just love how the green frame goes with the fabric.
This is by LaDDa also stitched over one. It is stitched on hand-dyed fabric, but the streak on the left isn't that dark, at least I didn't notice that it was! LOL
This is an old Dimensions kit that I stitched in 2007. It's a countdown for Christmas, oh an advent calendar! I forgot what it was called. (and it's stitched on 14 ct. aida..HORRORS! lol)
See there are numbers behind each ornament. All the itty bitty ornaments are stitched on plastic canvas. (ick) and are to be taken off and put on a tree to count down the days. I'll probably just leave it as it is and add it to my nativity collection!
I forget who this nativity is by. I thought it was kind of goofy, until I realized the meaning behind it! It has to do with an old hymn, course at the moment I forget what it says! I'm going to attach it to the back of the frame, so I won't forget. I forget who this one is by. There are white snow flakes that at as a border, but you can't really see them in this picture.
This is an OLD OP chart, that my bestest friend MD and I both stitched. It's called A Present For Sewing Well. You can't see it too well, but you can see the size of it!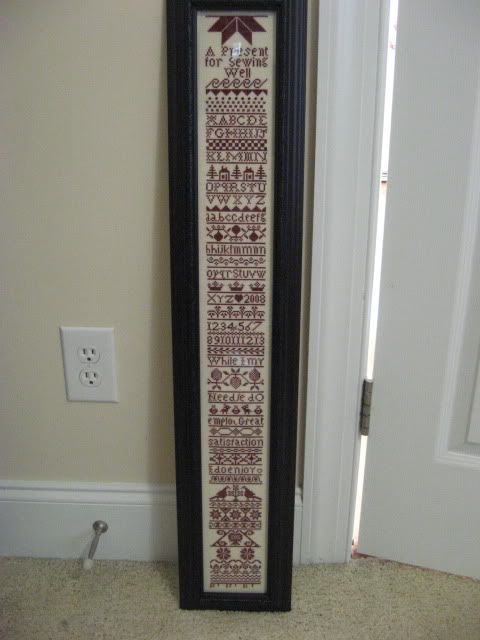 I really came upstairs to upload the picture of my finished Traveling Stitcher, but realized I haven't taken a picture of her yet! I'll do that later today!
Thanks for looking.