So I sat down to finishing stitching this ornament last night. I was just sure it was going to be the cutest thing ever!
After an hour or so, this is what I saw. Seriously, what is this thing? An alien?
Not too much longer, it started looking a more like a chicken than anything else. More like Chicken Little! Cute hat, though!
There are a few obstacles to my stitching late at night. This is Percy... a huge, hunk of a cat that thinks he needs to sit on me, not beside me. And then snore! Who knew cats snored?
And at last! I knew this thing would be cute! (It's not crooked, I just have the fabric folded back funky!)
Have you ever wondered how I display the ornaments?! Get ready to be bored! Our tree is already full of kids ornaments and family momentos. I don't want to hog it with "my" stuff! So here half of them sit. The others are in a box in my closet! One day, when I have my stitching room, they'll all go on that tree!
Remember the
snowman book
I was telling you about? Here it is. I used too thick of mat board, so it's not exactly right! But it'll do!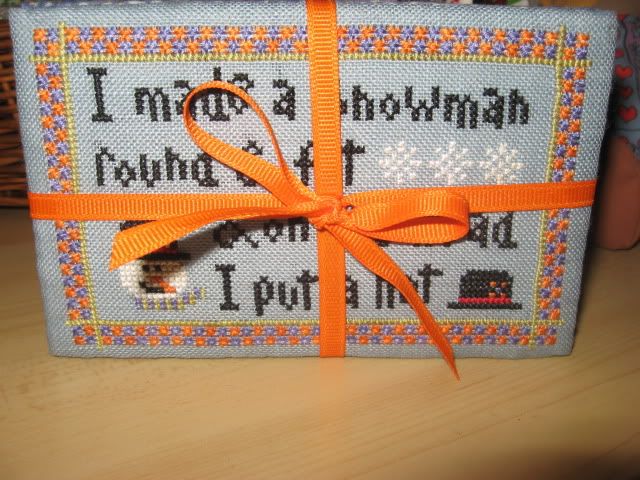 Here he is all opened up! Did you know it's impossible to find any kind of Christmas fabric with orange in it? Seriously, if I ever have Christmas with orange again, I'm going to change out the color.
See that lady in the picture? That's my grandma, she's 92. You can see about half of my grandpa (shh, don't tell him he didn't make the picture!). He's 92 too! (ha) They have been in great health, until recently. My grandpa is having some fluid issues, in his lungs. Tuesday he goes in to have some more removed. Did you know they put a needle through your back, into your lungs?! OUCHIE! It will be the third time in less than a month. Not good news, I know!
Keep them in your prayers. And me too. It's gonna be hard to loose my grandparents.
Stitching Christmas Party tomorrow! :)