Saturday was the yearly Tarheel Christmas Party.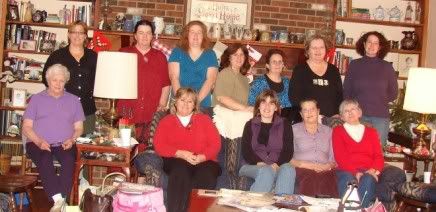 That's me in the purple vest. Really, I do like
Faye
(in the red beside me!) I was saving a seat for the photographer...but that didn't work out so well! :)
We had a great time! Our wonder host Mrs. Linda (in the black towards the right), got tons of donations from different ONS's! I came home with a bunch of different WDW and Sampler threads! Awesome!
Oh, but that wasn't the best part! Joanne at the message board where we originally met, back in 2000, gave a $50 gift card to
her shop!
You won't believe it! Nope you won't! Guess who won it?
All I'm saying...is I'm doing some shopping at 123 at the moment! I never win anything! Yeah Me!
Sunday afternoon, Luke was in our town's Christmas Parade. He was number 69! It was a long parade! He was voted mayor of his class, and that means he is in the student council. So all the student council got to ride in the parade. This is only part of them.
We weren't too sure what to expect from Luke! certainly not this: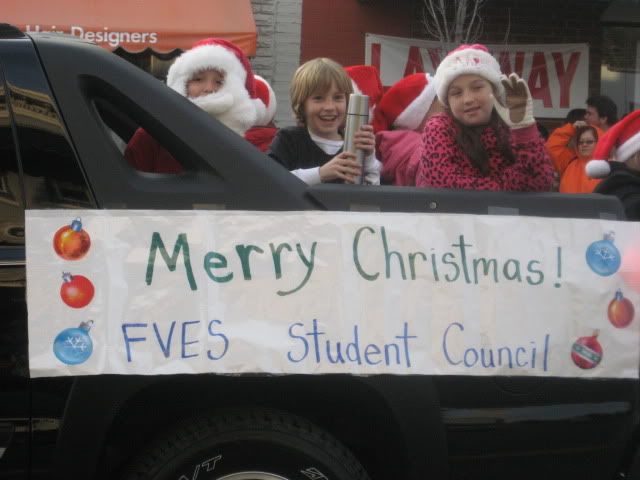 Oh wait, this is definitely closer to what we were expecting:
Now this is more like it! Exactly what I was expecting:
If you notice, he's the only one without a Santa hat. He left home without it, and didn't tell me, until it was too late to go back and get it. Apparently the hat didn't match his coat, so he didn't want to wear it! ???? :)
This little guy was in the parade:
On the way home, he took this lovely picture of me! :) I know you want to see me up close and personal, don't you?