Here are the last of the ornaments! :) I think I'm done for a little while at least...and I'm not going to go back and look or I'm sure I'll find more I want to stitch! These are all from JCS, but I have no idea what issues...if you are dying to find out, let me know and I'll look through and see where it came from!
This one is called The Decorator:
Oh wait, I fibbed! This one is a freebie online, the designers name is Helga, but I forget the last name. She has lots of freebies out there. You can't really tell but it's stitched on really pale pink fabric, love it!
This little snowman is stitched on 9ct in the issue, so looks a lot different on small count fabric!
Pretty sure this one is an Erica Michael's Design. I was shocked, cause to me it looks more like a Prairie Schooler. It is supposed to be stitched with handdyed silk fabrics, but I'm cheap and just used DMC!
This one is by Country Cottage and I really like the pinks and greens, don't you?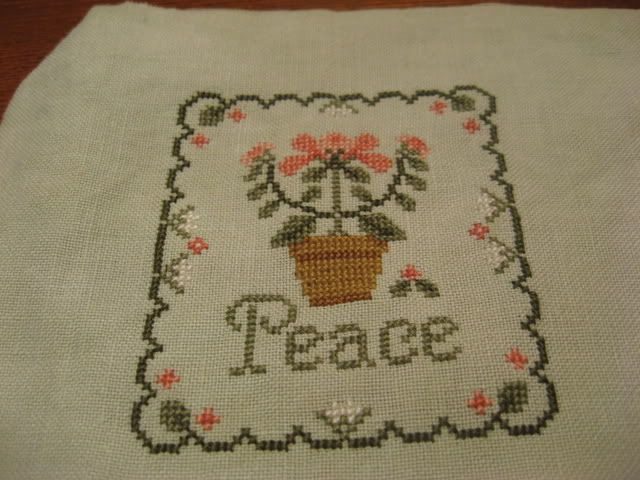 Did I show you this one already? It's another Erica Michael's..I still need to add beads along the inside border. I used all the threads called for on this one. It was my first whole project done with ______ threads. Drat, I can't think of the name of them..not WDW, not Sampler, but...
Of all the ornaments in all the books, this is the one I most wanted to stitch. And in the end, I like it the least! For one, I accidentally did it on 32ct instead of 36 ct and it just seems way too big. One is supposed to be a girl, but I changed it to two boys since that is what I have! :) It took the longest out of all of them, most counting, most stitching...and I liked it the least! Bummer...
See how everything is perfectly symmetrical, and then see how the teddy bear is off centered? It was designed like that, but I don't think I like it too much like that! I need to add some JABC buttons around the pillows, little candy mints and gingerbread boys...that might help it out some.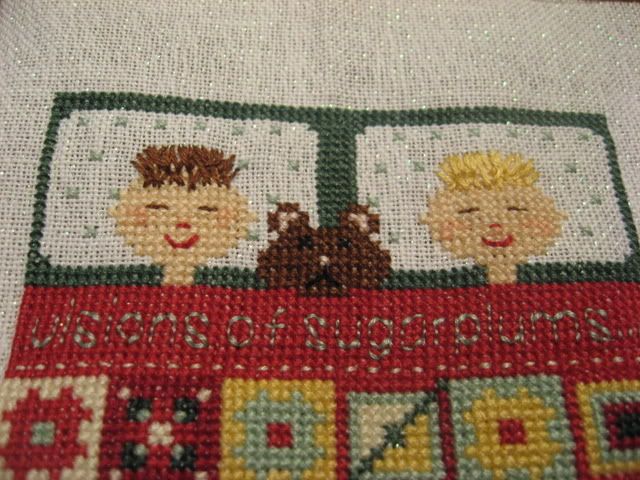 This poor little fellow is waiting for some red fuzz to finish his scarf!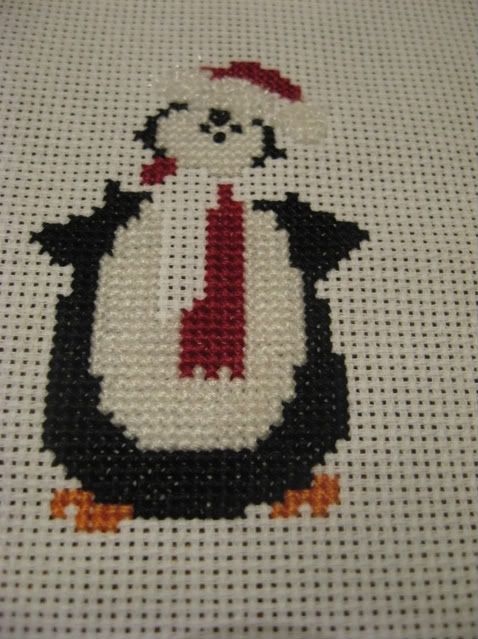 And this was one of those last minute ones, and I just LOVE it! Might even be my favorite! I used plain old DMC, because it called for about ten overdyed threads, and I didn't love it that much at the time! Lots of blending in the pattern too.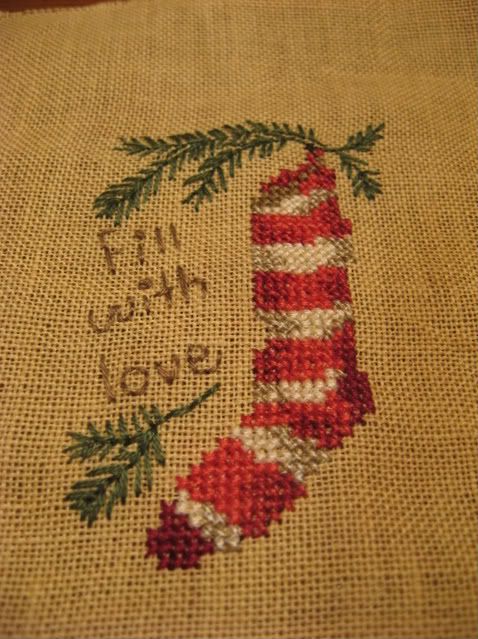 And NO HEATHER, it's not the same as this ornament:
Very similar, yes! :)
And here they all are! Wonder if they'll ever make it into actual ornaments?!!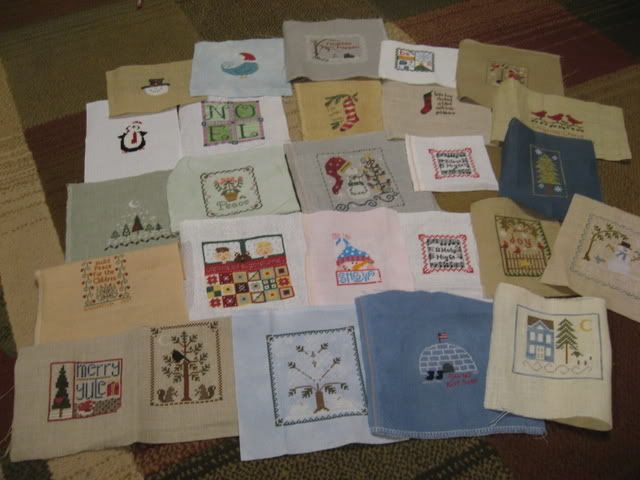 And last but not least. This is part of the I Made A Snowman pattern. There will be three of these little panels, that you connect together like a little storybook. When I first started them, I wasn't really thrilled with the border colors. They seemed more Halloween than Winter. But the further I get, the more I think I like it! I do have one more panel done, but finished it after I took the pictures last night!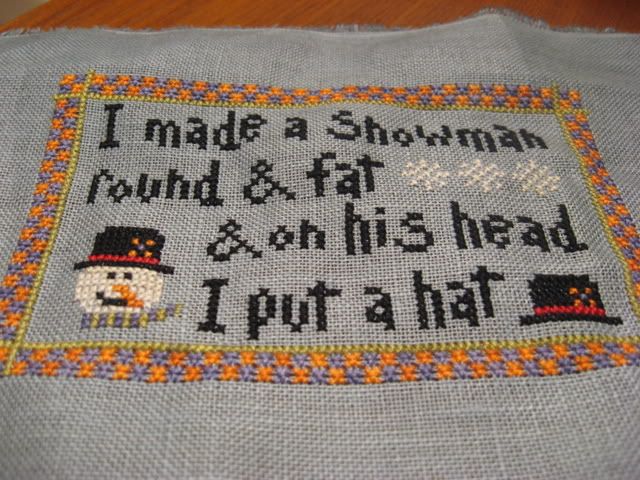 DH made it safely to Budapest! Last I heard they were driving into Ukraine. He'll be home late Sunday night. Luke let the news spill that somewhere he is hiding a Valentine's Day card from DH! I didn't stick one in his suitcase...I thought about it, but didn't ever end up doing it. We rarely do anything for Valentine's Day...but I always try to make sure it's "equal"! :) Oh well...he did me one up this time!