(The picture in the heading is of my Aunt Bonnie and me on the day she first taught me to stitch! Thanks to my mom, I still have that piece I was working on! And thanks to Aunt Bonnie for giving me a talent that has saved my sanity year after year! See how low those window sills are? I always liked that about that house!)
Here are a few projects to get the week started! :)
This is
Humbly Born
by Erica Michaels. I took this Friday night, and have since stitched the rafters and the star and the snowflakes down the left side. And all the over one stitching on the bottom is finished too. This is the one I wasn't sure about, mainly because the animals are standing on top of each other. But inside the patttern is a poem about the different animals worshipping the Baby Jesus and it's pretty neat!
And then I had to start this pattern! :) It's an old pattern of a chocolate box that you actually mount inside a real heart chocolate box. It's gonna be cute...but boy is there a TON of 1/4 stitches and outlining! Way too much counting! It's not gonna be an easy stitch, that's for sure!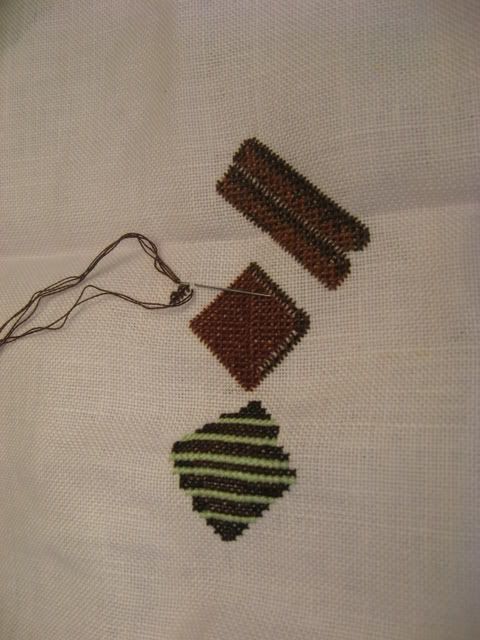 This is another Erica Michael's pattern! I hadn't realized I liked her stuff..but everytime I pick up something new, it's designed by her! Three years ago I made a Little Prince pillow for my friend's new baby. We were friends in high school. At the time I had also bought the Little Princess pillow, just in case. Well, last year she had a baby girl. We had sort of grown apart, and by the time I thought about stitching this pattern, it was too late for an early baby gift. We reunited over Christmas and just last week she sent me an email and said she hated to ask, but would I stitch one for her daugther! I was thrilled she asked, because I wanted to stitch it, but was afraid it was too late not to be awkward! Anyway, it was a really quick stitch...just a few hours. The colors aren't exactly right, I just picked out what I had. I've added her name and birthdate to the bottom and need to finish it into a pillow.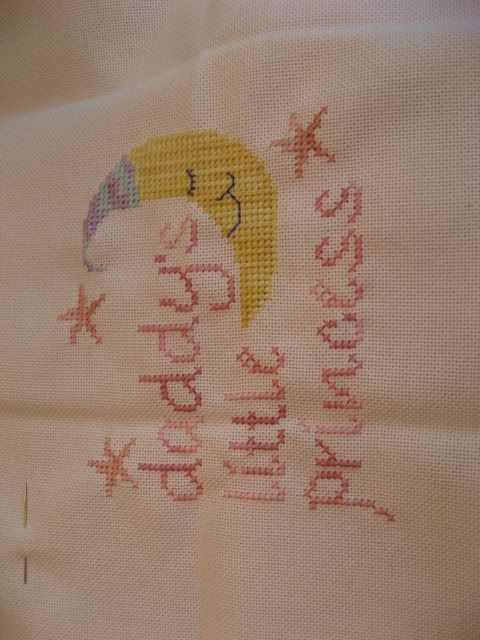 This is Just Nan's Hop Scissors fob. It'll be finished into a tiny needlebook, it's only about 1 1/2 inches. But that'll be for another day. Don't you think the bunny looks a little goofy?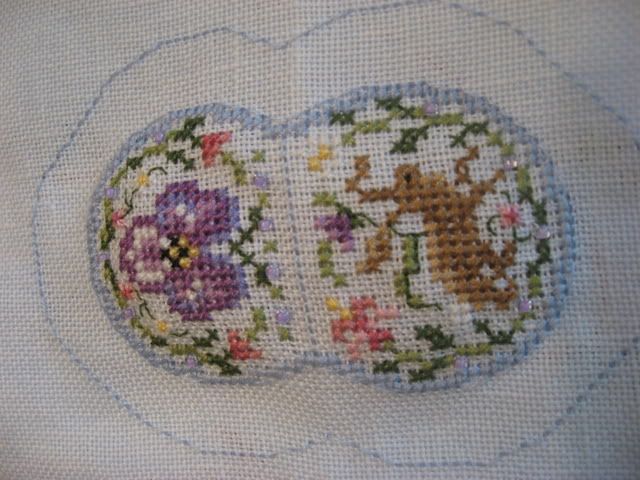 This is for a certain little exchange, I'm going to finish it into a needlebook. I'm almost positive it's another Erica Michael's. It's stitched over one, and I love the fabric I found for it.
This is an OLD WIP and a long story too! I've always loved it, and have seen it stitched in two different LNS's and loved them more! So after MUCH discussion, I finally bought the R&R fabric to stitch it on, and when I started stitching it at home, I realized it was 28ct. instead of 32ct. And it was gonna be way too huge! So I just ended up stitching it over one, which isn't really what I wanted...but it's fine! :) It's about the size of a dollar bill.
Remember that snowman pattern I started when DH was gone? It was such a simple stitch, that I finished all three panels. They finish each section like an ornament, then connect the three panels with ribbon. But they poke a hole through the fabric to thread the ribbon through it! That makes me nervous, cause what's gonna keep the fabric from unravelling? So I'm not sure how to connect them!
Remember Page 1?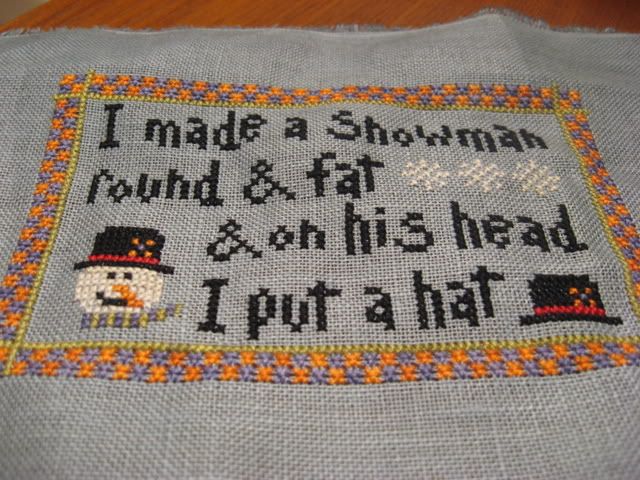 Page 2:
Page 3: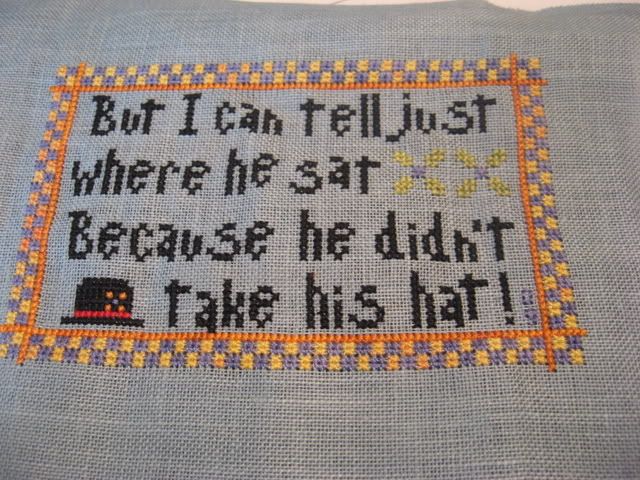 And finally I started my Friendship Sampler RR! I started smack in the middle, because I couldn't remember how much extra fabric I had for the edges, and I didn't feel like measuring it! Lazy, eh? It's stithed on 32 ct, and I wish I had orderd 36 ct, it's a little big for my taste. I'm gonna let the ladies use whatever threads they want, as long as it stays in this family/shading of colors! I need to add my name, and probably stitch one more heart before it goes in the mail this week.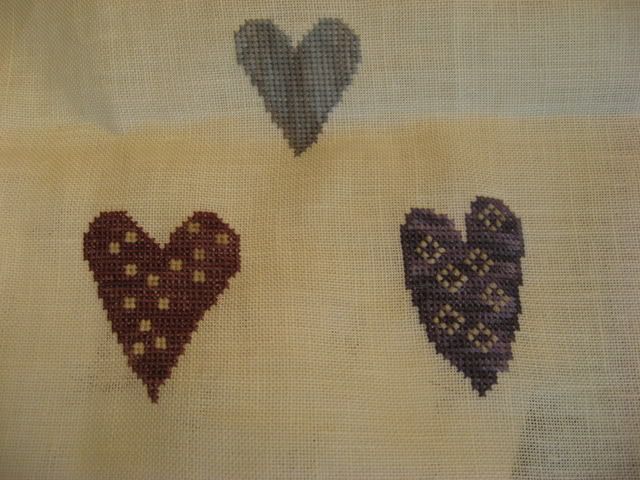 On the home front: Luke got to star in a little movie for Mike's job. He's doing a youth convention and the title of it is "The Power of One". Are you familiar with the Bible story of the huge crowd of people that Jesus wanted to feed, and he used one little boy and his lunch of a few loaves of bread and a few fish? The whole point of the video for our youth is that they have "The Power of One" and how are they gonna use their lives to make a difference in the world.
They took Luke out to a local lake and had him walk around and do a few things a million times, and then he also did the voice over for the video. It's about five minutes, and will be shown at Mike's youth convention on a huge overhead screen (like at concerts) and also at our Baptist Men's State Convention. I've seen the video, but it didn't have the voices on it. It's pretty cool! There is one section where Luke is walking in front of the lake, and I said.. "Ah Luke!" And he said, "I had to walk past that lake thirty times!"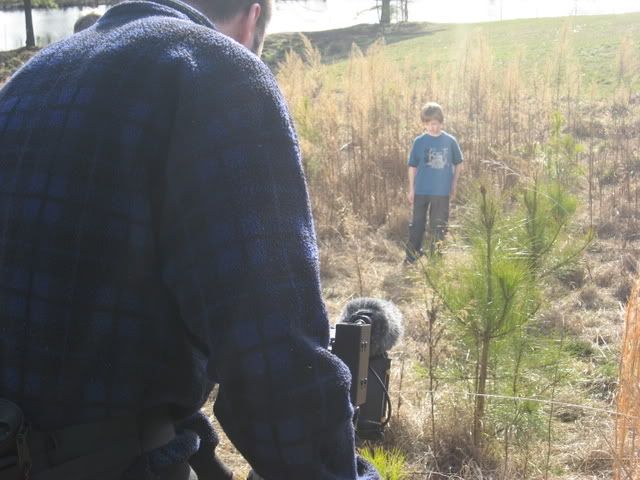 As you can tell, they did a modern take on it.. as you can tell from Luke's outfit! But he did get to carry a basket with real fish in it, which he thought was nasty! :)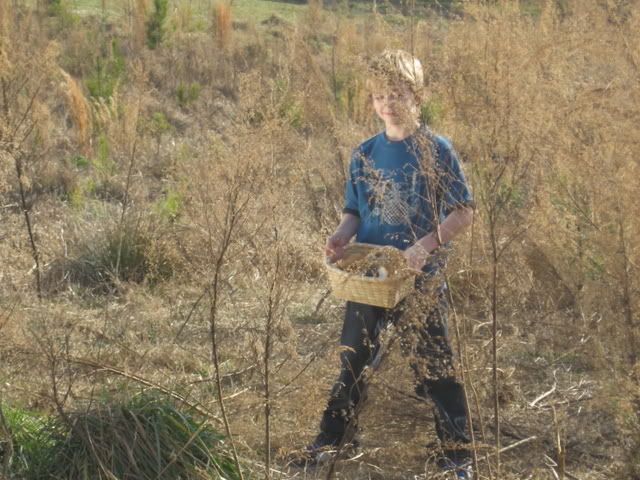 I'm sure after all the conventions it will be posted online on their website, and I'll be sure to post where you can see it! He was so excited that he finally got to do something that his older brother hasn't ever done! Are your kids like that too?
As much as I'd love to sit and stitch today...our home always seems to get destroyed over the weekend! So I've got laundry and cleaning to do today!
DH and I head to Honduras on Saturday and will be home late on Monday night. We're meeting with pastors and churches where we will be working for a week this summer (with 90+ teenagers) and will also confirm things with the host of the camp where we'll stay!
Happy Monday everybody!