Decisions?! Well it seems like all of you had different opinions on the best option! If I can find good coordinating colors to use for the border, I think I'm going to use #3. I'll let you know! I like #2, but the brightness worries me a little bit! :) Watch for pictures!
Marian asked if I got any new nativities over the holidays! :) I am a big collector of nativities. I have close too 200, of all sizes, shapes, colors and materials! My favorite way to collect nativities is to get them directly from different countries. My sister has travelled to Africa a few times, and I have three "natural" nativities from there. Two are made from natural African wood, the other is made from Banana leaves! :) I have ones from Honduras, Brazil, Columbia, Bolivia, Peru, Germany, Amsterdam and probably somewhere I'm forgetting!
But there is a wonderful store in America called
10,000 villages
. They are a fair trade company and their main store happens to be near my Grandma! We went over there this Christmas, and their nativities were 25% off! Even scarier for a collector! :) Grandma said she wanted to buy me one! Wonder why she wouldn't buy me the $1,000 one from Bethlehem?!
Anyway! I saw this one, that I just loved! It's by Gurung people in Nepal! Made by local people,
with local products! Don't you love it?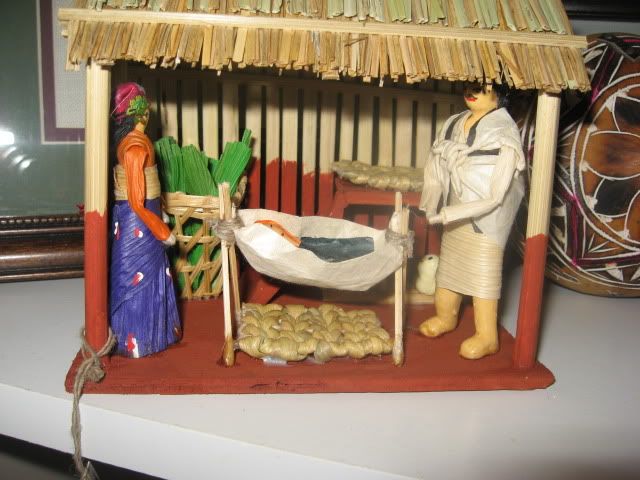 Here's a close-up!
This was the real reason we went. This is a real egg! A quail's egg, it is TINY! :) It's made in Peru. For some reason, Peru makes lots of nativities!
Look the shell is even hand painted! It's about an inch long I guess!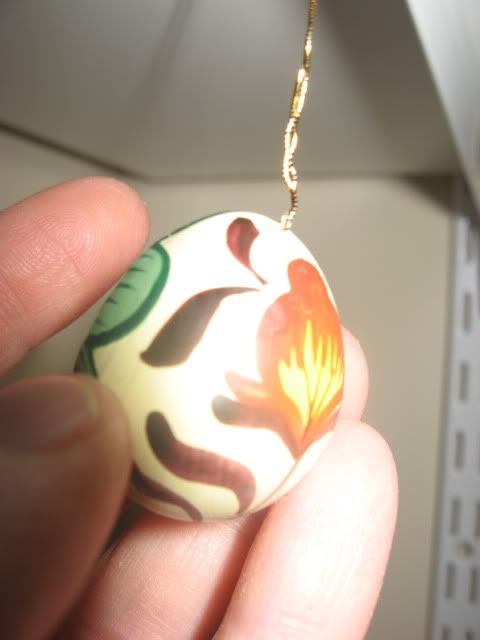 Last but not least! My mom gave me this nativity. I've wanted it ever since my kids were little. They are 12 and almost 10 now, so it's not nearly age appropriate. But their little faces are so cute!
I'm always on the lookout for new nativities! I'm to the point where I really just want unique ones from different countries!
It's a fun collection! Though it's getting a little out of hand! I've stitched too many nativity themed things, and the room is started to get cluttered, instead of unique! Going through them is on my 2010 to do list!:)