I started and finished this one on Saturday! It's a pattern from the online Gift of Stitching magazine. The colors I chose were completely different than how they did theirs. I used Mermaid WDW thread, I always thought it was pretty, but so random and it fit this project perfectly! I had some odd bright yellow WDW (I think it's Lemon something) and leftover Spring Grass and even had beads to match!
It was put together just like a biscornu. The to square was a seperate piece, not that big of a deal to attach once I followed the directions! :) It's a little pin cushion, in case you didn't know!
Remember that LNS I went to that had all the great deals? One was this SB kit: scissors, fabric, pattern, thread and I ended up paying $6.50 total!!
Here's the back: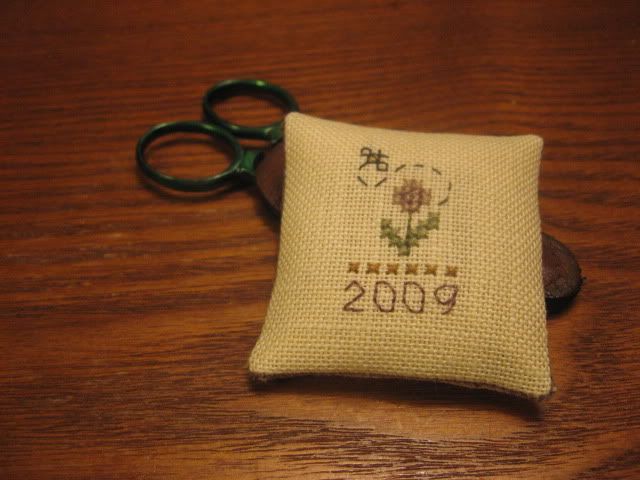 It's gonna be a cute little thing once I get the cording added on there!
I got a lot done on FP the past two weeks. I'm working on these pink flowers:
Here's the whole piece. There's a bunch yet to stitch on the left of the picture. Plus all the birds, bugs, butterflies. Oh and all the backstitching!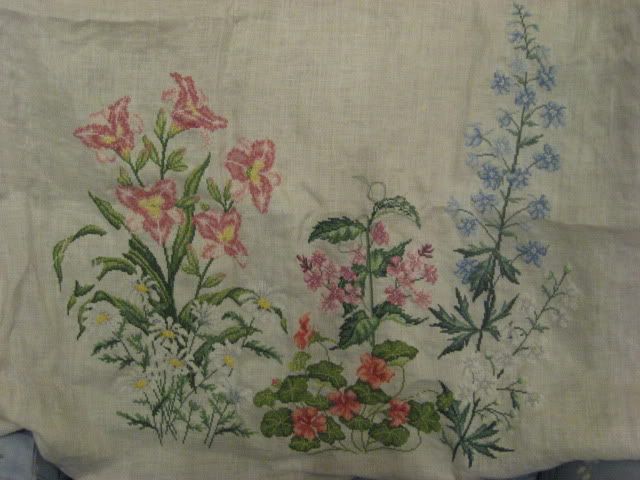 Last but not least, this pattern is also from Gift of Stitching. I changed the colors all around too. I'm liking the dark gray fabric. I'm hoping to get the finishing done today, once I get some housework done! I don't stay home just to stitch you know!! :)
Tomorrow I'm attacking the LNS shop which has now reduced it's prices to 70% off. That means WDW are .60 each! Yup, I'm sure there's not much left, but I'll let you know tomorrow!
This weekend Fri-Sun I get to stitch all day, every day! We'll stop for some lunch breaks, and maybe even eat dinner! I'm dropping my kids off at school on Friday, (My wonderful MIL is coming to watch them.) and I'm going to go stitch until I come home on Sunday!!