That's what our parking ticket said when we got our van after our trip to Tegucigalpa, Honduras! Here is what the majority of the place looks like. Houses just packed one on top of the other! Mostly the color you see is brown, but every once in a while you'll see a bright yellow, red, purple, blue or pink house! :)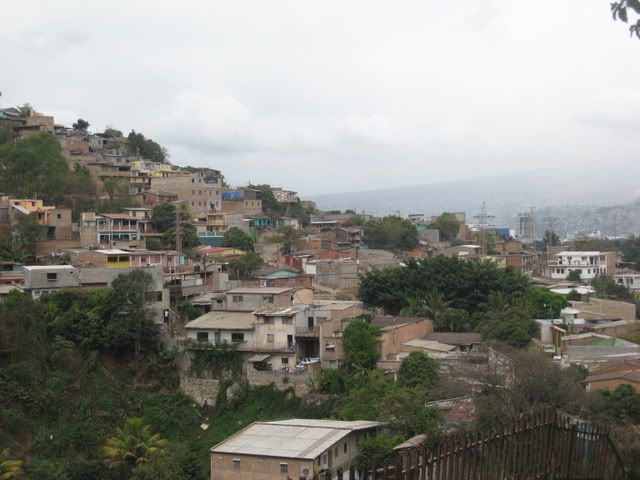 You'll have to tilt your head to see this one! But this is the home we'll do construction on. Basically they'll completely tear this yellow house down and built a new one. It's in horrid conditions. The mother lives there by herself with her children. Her husbadn recently passed away, and they've been broken into SEVEN times! You can barely see her mother's house in the trees behind hers in the picture. All seven of them will move into that little house while our team completes her new house. They will have to tear it down and lay the foundation (basically a cement square floor) before we get there.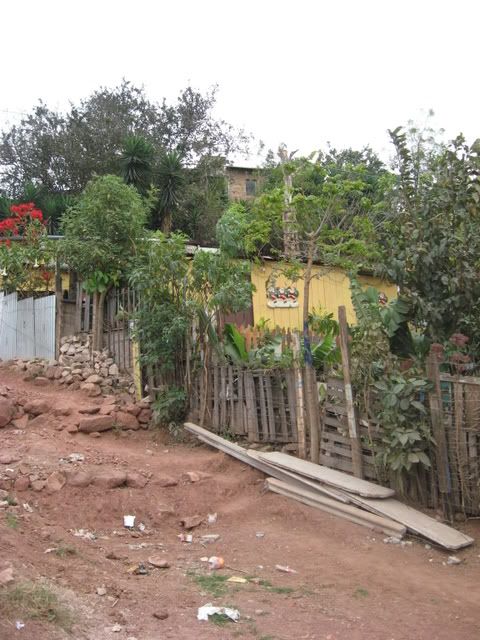 This is up on one of the mountains looking down over the city. Immediately below us were terribly poor looking homes. The trash along the roads is everywhere there.
We went to visit an outdoor market "The Valley of the Angels", where we will take 75+youth this summer. When I saw this nativity made from corn husks, you know I couldn't leave it sitting there. The price was 150 limps, and when we asked the lady she said that would be $80. I loved it, but not that much even though it was all handmade. When I said no thanks...I could tell she was thinking and all of a sudden she said, "Oh $8, not $80!" So course we had to buy it for that!!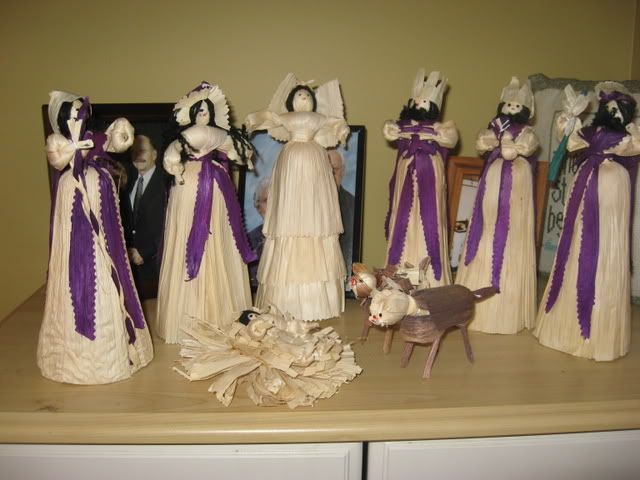 I started stitching FP before I left for Honduras. Boy this is gonna be slow going for a while. There is TONS of counting!
Flower Power Start of Day One! :)
Flower Power: End of Day 1! This is gonna be a SLOW one!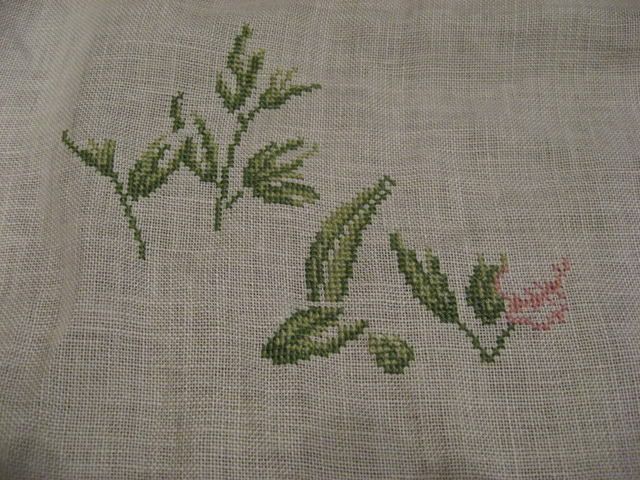 I've since stitched two more nights on it: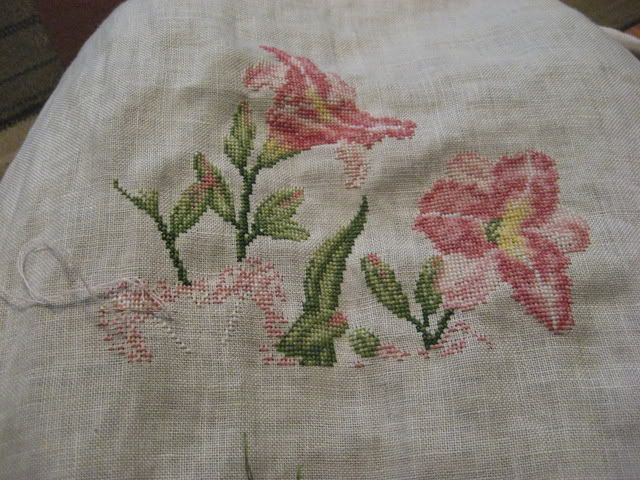 I almost always wait until the very end to do the backstitching, but I'm thinking I might stitch it as I complete each set of flowers. This pattern is huge! Six pages (each like 4 8 1/2 by 11's) plus a few more pages with all the little bugs and butterflies and hummingbirds. See how there is sort of a straight line of stitching there at the bottom? That's where the page ends, and I'm a little worried about stitching it that way, because that line is going to show through on the finished product! (at least for me, I'll be able to see it!) But it's so hard to stitch and hold 2 sets of those pages on my lap! :) Another pink flower goes up there on the left, so I think I'll do that one first and then worry about how to blend the different pages.
I was going to keep track of how many hours this takes me, but I've been stitching in little sections of time. Getting up in the middle to do laundry, feed children, help with homework, etc! So, so much for that! :) It'll take so long it'll probably make me depressed anyways! :) I've kept track on three patterns how long they took. I"ll have to go see if I can find where I put that info!
You might recall I'm the fearless leader of the Friendship Sampler RR! Well we did our first mailing this month. Guess what... the fearless leader put her OLD zipcode on her address! Everybody else emailed and confirmed their addresses! What in the world was I thinking?! So at the moment,
Carolyn's
RR is taking a little trip to Fayetteville, hopefully it will be here soon. She emailed me and said...."You must be really close to Fayetteville." I thought to myself, well no not really! I went and looked at the file of all the addresses and MINE WAS WRONG! I just hope we get it back quickly! If not, I'm gonna go visit 205 Pine St in Fayetteville! :)
DH is gonna be gone all next week. He's actually going golfing with a bunch of his friends and I'm thrilled for him. He needs a break. Course there might be a little jealousy added in there too..but hey, the boys and I will survive. My MIL might come down for a few days, but other than that I'm gonna STITCH! Well, I need to do a good bathroom cleaning first or else I'll feel guilty the whole time I'm stitching!
Happy Weekend! It snowed here last Sunday, this Sunday it's supposed to be 80! What is going on with the weather around here?!!