It's been cold and rainy around here lately!! Reminds me of home! (Kodiak, Alaska) I haven't had huge amounts of stitching time, so I've been doing these little one nighters!
Before you think I've given up on FP, I haven't! I just don't like to pull the massive thing out, if I only have an hour or so to stitch!
I finished the pattern for our college intern. Now I need to make a trip to the fabric store, to find the perfect, funky, fabric to make it into a pillow.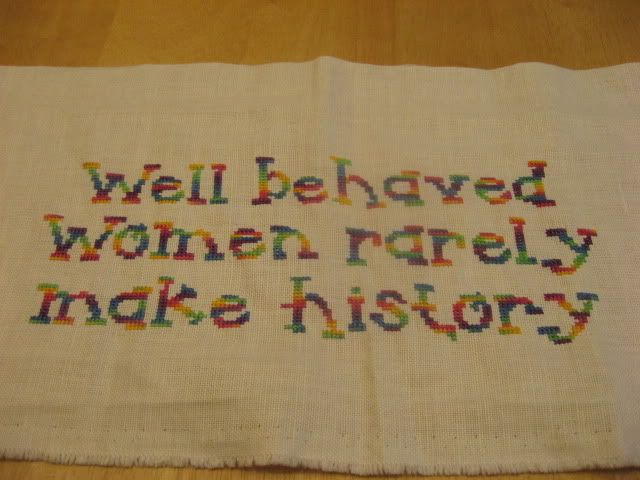 It's really all
Faye's
fault! Or maybe it'd
Mylene's
! See, I first saw Faye's tree of Valentine ornaments and thought to myself, "Self...you need one of those!" Then over at Mylene's, I saw all these cute little Valentine freebies and thought to myself, "Self...now you have no excuse!"
So I went through my stash of random overdyed threads and picked out the pinks and reds that I wanted to stitch with. I had tons of pinks and muaves and burgundy, but I need to get some REDS! Course that sort of defeats the point of using up stash, doesn't it?!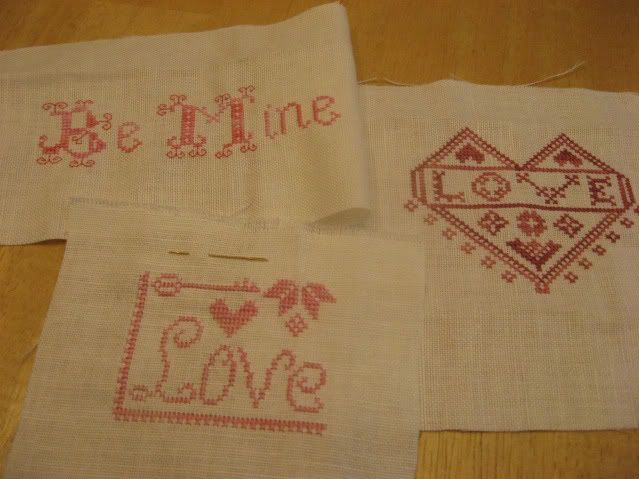 Love is stitched with Dye is Cast Geranium, Be Mine is stitched with Dragon Dreams' Pink Pansy. I have NO idea where I got that thread, I think in a thread exchange a few years ago. Love is stitched with a GAST thread, but I have no idea which one!
This is the pattern I'm working on now. It's not a freebie, it's a PS from long ago! It's supposed to be stitched in all different colors, but I'm using one over-dyed for the whole thing. I'm stitching with The Dye is Cast thread, Barn Red. It's my favorite of all the Dye is Cast threads. Bummer she isn't doing her threads any more, they are so much nicer to stitch with! Course Victorian Motto Sampler threads are about as nice! :)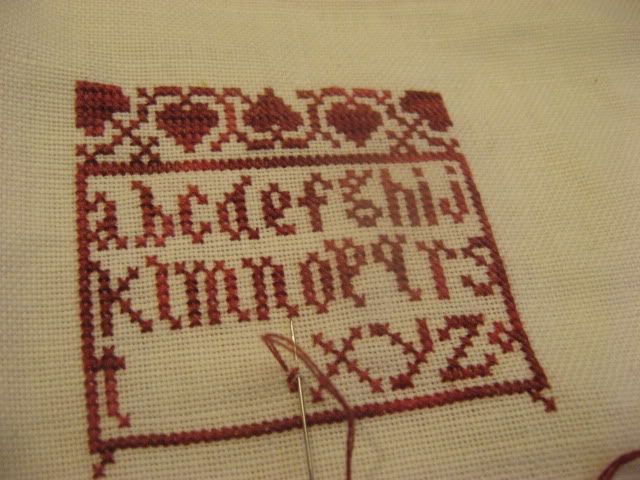 I have another row of hearts and vines to put under the last row of abc's. It's supposed to be square, not rectangular! But my fabric doesn't seem to be square! Now that's annoying isn't it?! It's 34 ct. Williamsburg Oyester, from a fancy pantsy LNS, not even cheapo stuff from Joann's or Michael's! LOL
I think it'll be okay once I finish it, nobody but you all will know it's not exactly right! LOL I just will have to back it with sewing fabric, don't you think?
So Faye... Mylene.... Since this is all our fault, I need one of you to provide the tree to hang these on and one of you to finish them all into ornaments! Volunteers?!
Just Kidding! :) Have a good weekend, everybody!