It's Friday again! Where exactly does the week go? This is the first Friday in a few weeks, where I haven't been packing for our entire family to go away for the weekend! This morning at breakfast, Luke said, "Today I get to stay the full day, right?!" He was so excited! They have their reward party every Friday (for good behavior during the week) and the poor kid has missed the last three! It was funny to see him so excited to get to stay a whole day at school!
I'm packing for myself this weekend...not packing much though! I'm wearing my jammies, taking my stitching bag, and we're gonna stitch all night and as long tomorrow as possible! Yeah!
DH and I leave Sunday for FL. He was GIVEN a cruise a few months ago, and we leave Orlando on Monday. We'll cruise to two different places in the Bahamas, and get back to Orlando on Friday. We'll drive home and then Andrew's 12th birthday is Saturday. He doesn't want a big party, and that sort of makes me feel bad! :) But we'll do whatever he wants to that day. My wonderful MIL is staying with the boys all week. So I need to get their schedule written out for her today, and go grocery shopping for the week too.
While we're gone, we're going to be missing Andrew's orchestra concert of this year. I am this deep fear that it's going to be one of those moments in his life where he'll always be saying..."Remember that time you missed my orchestra concert?!" This is his 2nd one of the year, and we went to the first one. And in a few weeks, they are doing a competition at Busch Gardens, and we are going with him for that. Decisions, decisions! :)
I'm been mainly stitching on Flower Power! Here's where I was last week.
Here's where I am this week: (oops! It's a little fuzzy!)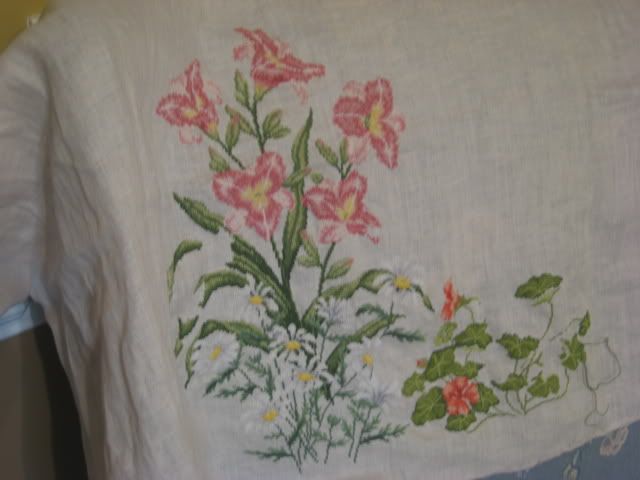 In the inbetween time, when we're driving, or when I don't have time to drag out the FP...I've been working on these PS charts. There are four in total. Some were in magazines, and some were freebies (I think, maybe not!) They are stitched on an Irish 50ct. linen over two, with one thread!
Summer: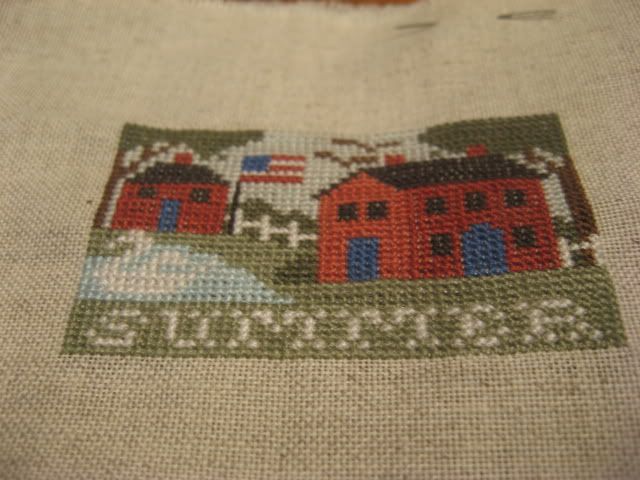 Fall: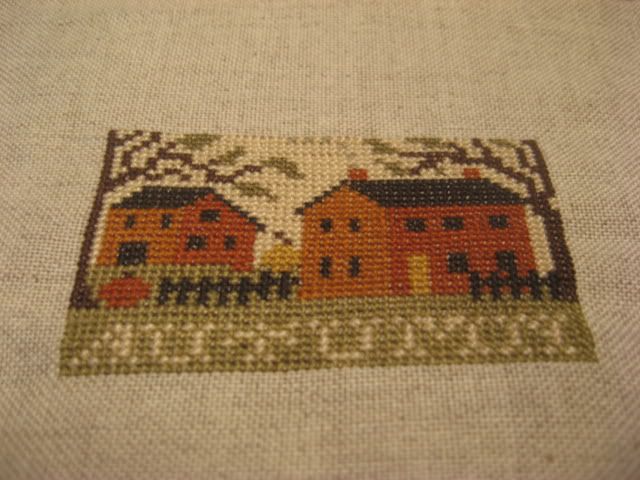 Spring: I have a few issues with spring! There is this huge ugly, out of place tulip that is supposed to go in that blank corner. I just don't think it fits with the rest of the pictures, because everything in them is size porportionate! (is that a word?) But the spring one isn't...I'm saving it for a professional opinion this weekend!
I'll do winter next.
I went through my stitching stuff yesterday and I am reorganized! I've got a bunch of easy LK designs together to stitch on the drive to and from FL. I doubt DH is going to go for stitching on the cruise! :) But I'll take a little something just in case!
Our crazy, summer schedule is right around the corner! I'm really thinking this cruise will be great for me and DH, right before life gets crazy!! (as if it wasn't already, right?!)
Remember the camp we've done youth camps at the last three weekends? Here are a few pictures that will help you understand why everybody loves it there so much! This is the view from the little motel we stay in:
This was on the way towards the dining hall! By this time Luke was tired of me taking pictures every few minutes as the sun went down!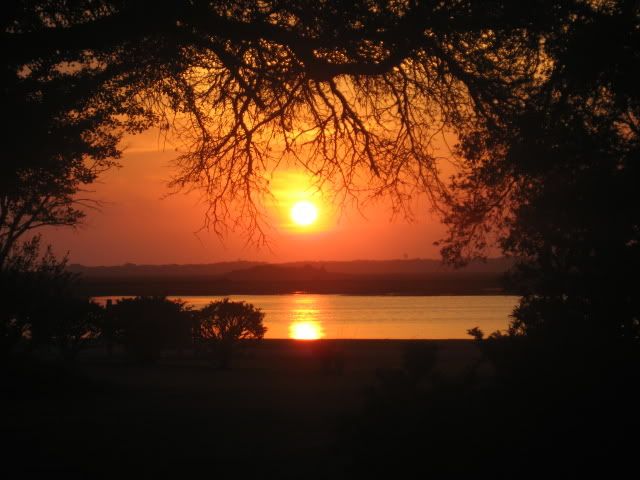 Last but not least! My 3rd grader (Luke) was assigned Bridge to Terrabithia to read in his reading group at school. I wasn't thrilled when there were a few curse words in the book. When I asked Luke about it.. he said, "Oh it's okay Mom! We just say BEEP when we get to those words, like they do on TV!" Then, if you haven't read it, there is a really sad ending! And I would think hard for a 3rd grader to deal with. Last night on ABC Family, the movie based on the book was on tv. Have you seen it? Oh my goodness, by the end I was sobbing! I looked at Luke and said, "This is ridiculous, Luke!" He just sadly smiled, I think it was sad for him too. So anyway...just makes me wonder why teachers pick the books they do? He said their choice was that book or a book Captain Underpants, which is mainly a cartoon! Jeepers! Guess he made the best choice offered to him!
Happy Weekend to everybody!