Good gracious!:) This is my first morning home since last Sunday! That's rough for a homegirl like me! :)
Sunday, my inlaws were here, and my FIL got word that his dad was not doing well. Instead of waiting and heading that way on Monday morning, DH and I rushed around getting our stuff together and then we took my FIL home to check on his dad. No big deal for us, my FIL is legally blind, so he doesn't drive at all. We had a conference in their town Mon-Wed, so we were heading that way anyway. We just had to rush around!
FIL's dad is 85, and I think old age is just catching up with him! He's lived a long life, I just wish they could find a way to control the pain for him!
Monday-Wednesday, DH and I stood in front of his booth and talked to youth pastors and Baptist church people from across our state. It was a lot of fun, but being on your feet for so long, can sure tire you out! Monday we had to set up all the booths, seven in total for his office. (he only had one booth for his stuff.) People started coming around 2pm on Monday and we stayed until 9:30pm. Tuesday we had to be there at 7:30am and we finally left the booth at 10:00pm! Yikes! Wednesday we were there 7:30-9:30 and then had to tear the whole thing down!
We got home around 1pm on Wednesday. My dear MIL stayed with our boys Sun-Wed. She cleaned my house and picked up three trashbags full of leaves from the back yard! I told her I was going to leave again!
Thursday (yesterday) I went as a chaperone for the 6th grade field trip to Mid Evil Times. It was a lot of fun. We were on a big tour bus, and it was FULL of noisy 6th graders! And in total there were 5 tour buses! Poor MidEvil Times! HA! I hope they knew what to expect! Have you ever been? It's a dinner theatre, with knights and real horses. They do tournament games, and the audience is divided into six sections to cheer for "their" knight. Let's just say 6th graders took that job VERY seriously! We had to be at school at 6:15am, and didn't get home until 6pm. It was a 4 hour drive each way, and a 3 hour show. You got to eat your full dinner with no utensils! The kids loved that!
Our Yellow Knight!

Andrew and I at our table.
Remember my matchbox exchange? Tada! Here it is! And when I took everything out to take pictures, I realized the redish thread was the exact one I needed to work on a project I started last night! Thanks
Marion
!! The one I mailed for Marion is on it's way as soon as I get to the PO! :) I might have to do one of these again! They are so cute!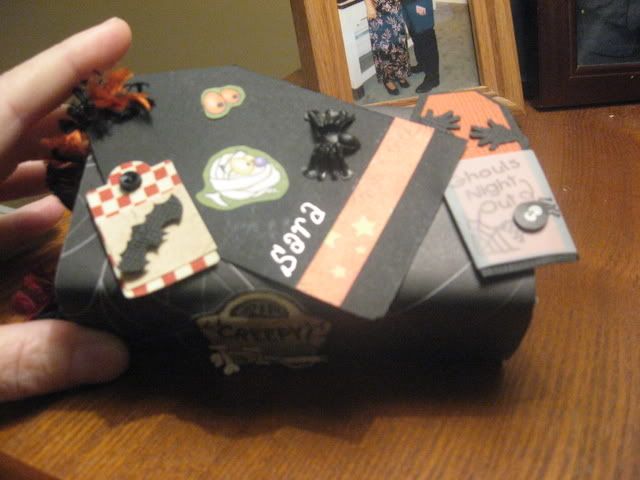 I absolutely love the needlebook! It was Marion's first one! AND she designed the inside and back by herself! I love the little felt black cat!
Front:
Inside:
And she stitched a fob, using a pattern that has been on my "To stitch" list for a long time! Plus three dyed threads, and little buttons and some other cute stuff!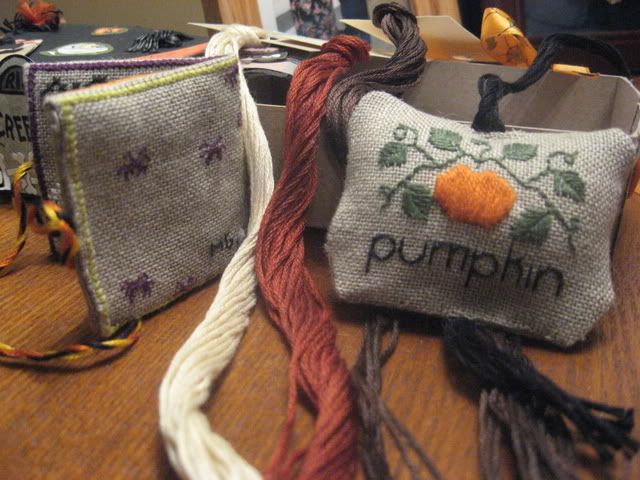 Remember my casket? Here is the needlebook and fob. I messed up on the fob, it's supposed to have a little tassel hanging off the bottom, I'm debating taking it apart and adding one...can't make up my mind! I liked how it looked, until I saw the sample! :) I have the pinkeep stitched, it's on my list of things to get it finished today! We'll see!
Front of Needlebook and Fob:
Back of Needlebook and Fob. Aren't the daisy's cute?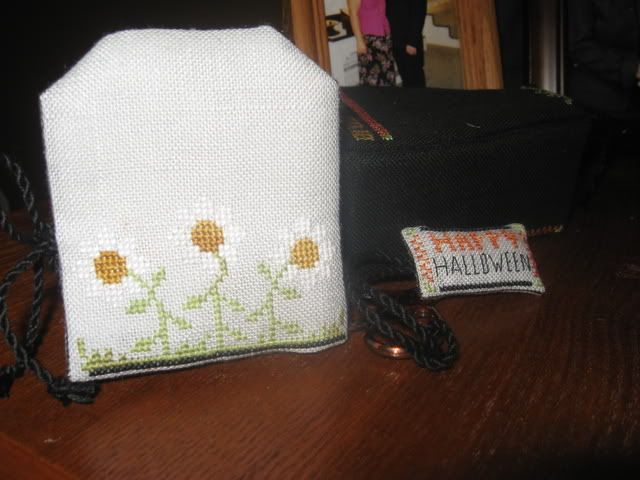 The inside: I still need to iron the thing, obviously!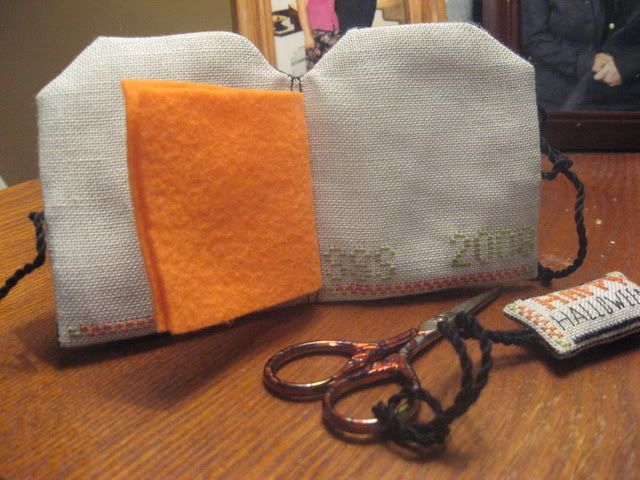 Thursday, my bestest friend is picking me up EARLY! We'll drive about 6-7hrs to Pigeon Forge for our yearly stitching retreat! We'll stay Fri/Sat and drive home Sunday. Can't wait to go, we always have a blast! And it's fun looking forward to it each year!
Goals for today:
Get Marion's box in the mail.
Do the finishing on the pinkeep for my casket.
Add the trim to an ornament exchange with my DIVA group!
Finish writing in Luke's (DS) Journal.
Clean the bathrooms!!!!