Don't you just hate when real life gets in the way of your stitching life?!!
We have just had a really busy schedule the past few weeks...The boys had a great time trick-or-treating.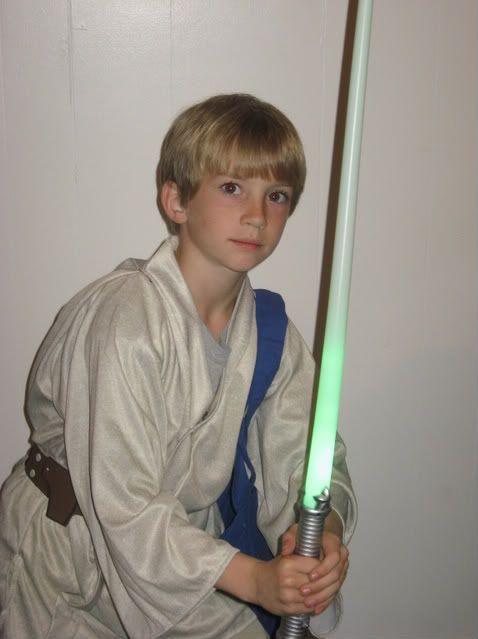 Luke is Anakin Skywalker from Star Wars, and Andrew just sort of made something up from his toga costume!
We went to a football game in Winston-Salem, NC at Wake Forest University. They played Duke.
This is DH, Luke and me! :) Notice DH couldn't quite stop watching the game for the picture!
My awesome inlaws, with my oldest Andrew.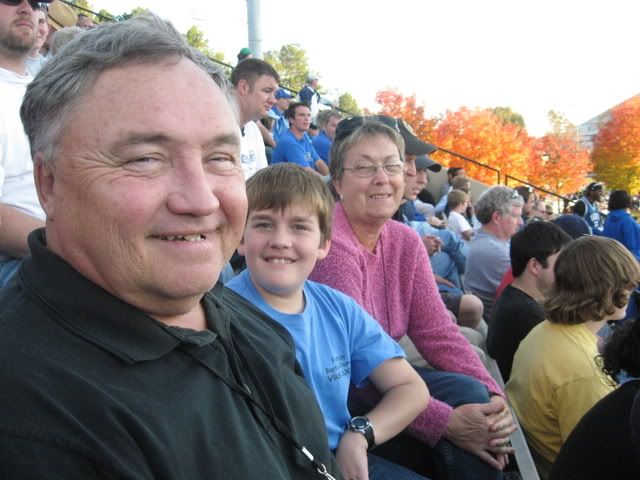 The fall colors around here are just about the best I've seen in a long time! I keep driving by places saying, "Gee I wish I had my camera!"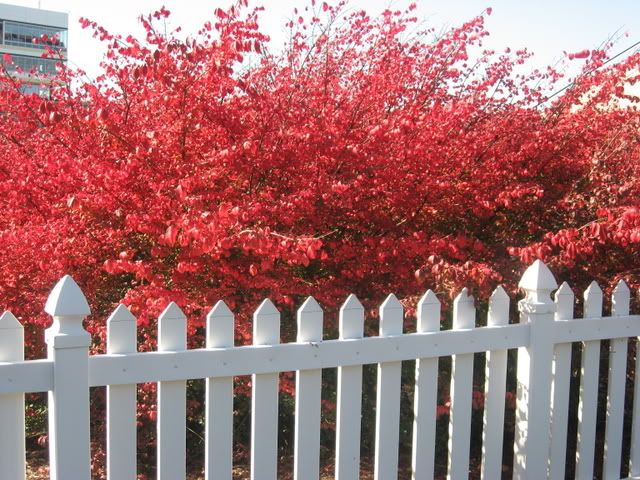 One more fall picture! And it hardly does the colors justice!! Wake Forest still has one end of the football field a grassy hill, behind the one endzone. The trees were so pretty!
Tonight is Astronomy night at school for Luke. It's for all seven 3rd grade classes! The Raleigh Astronomy Club is coming and setting up a bunch of stuff to look at stars in the field behind the school. Plus there will be 4 or 5 other stations for the kids to go experience. He is excited! My 6th grader is NOT! Too bad we live in a day and age where he can't stay home by himself! DH is out of town for the evening, and I just can't quite leave Andrew at home. We had a really close friend, whose child was a 7th grader, who stayed at home by herself and was involved in a terrible accident. So of course that just made it all the more risky for us to decide to leave Andrew at home alone!
I get an unexpected break this Monday-Wednesday. My DH has to do a convention for NC Baptists, and I was just going to go up and help out on Tuesday. But my DEAR MIL decided to come stay here with the boys, so I can go help DH at the convention. It will give me a chance to be with grown-ups, help Mike (DH) out, and not deal with children! Isn't she great?
Then Thursday, I will get a full dose of children when I go on a day long field trip with Andrew and a bus full of middle schoolers! That'll be interesting to say the least!
And finally in TWO short weeks, I'll get to go to our yearly stitching retreat in Pigeon Forge! My stitchin' momma will pick me up EARLY on Thursday, she'll drive about 7 hrs or so, and I'll stitch the whole way. We'll come home as late as possible on Sunday!
I have been stitching some! I'm working on the LK Double Flips for my sister for Christmas. I'm still in the SAL with Becky for the Nativity. (though we both skipped this Monday) I don't think I'm cut out for SAL's!! :) I'm to unorganized! I've got two Fair and Square patterns to start and finish. I have the finishing to do on my matchbox exchange: which will happen tonight or tomorrow!!! And I finally got the gray fabric for all the smalls to put inside my casket! They are all stitched, except one piece needs about six or seven more words all stitched over ONE!
Before the PF trip in two weeks:
I want to get all the finishing work done on the casket.
Mail my matchbox to Marion.
Do the finishing for 3 JBW designs stitched over one.
Do the finishing on the CEC frog freebie.. I need the fly button from JABC!! :)
That's all I can think of at the moment, at least that's all my priorities anyway!
Such a long post! See what happens when I don't post for a few days? My mouth starts to run!
Has anybody noticed how much I use exclamation points? I often have to go back and delete them, because they end up at the end of every sentence!! :) See...