Remember this?
A couple weeks before our get-to-gether last weekend in Richmond, I got an email from
Sue.
She asked if I would be interested in stitching the pattern she made for the weekend, over one! I was so surprised she emailed me! :) I had the supplies within a day and had it stitched the next day.
And then she told me to finish it "however I want too".
All together, let's say it: "YIKES" This nice lady has been designing for forever and wants me to do it "however" I wanted! Can we say pressure?!
This is what I came up with: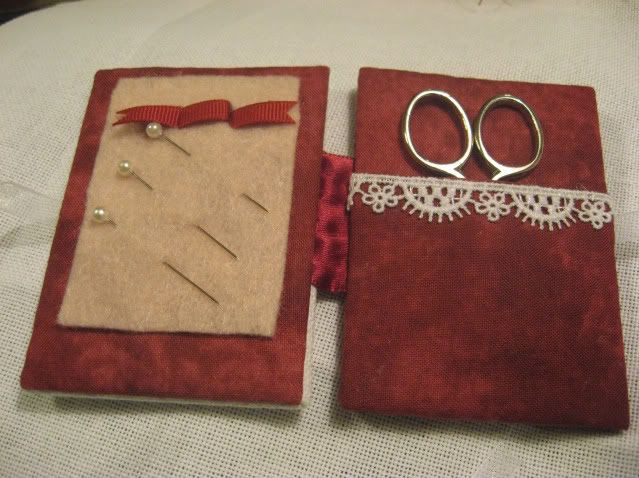 I found some charms in my stash, and tied them on the ends of the ribbons. I know we all loved cross-stitch and without a doubt, we were going to laugh a lot!
So I sent her some pictures, she said it looked great... off to Richmond I went. The first night, I secretly handed her the project, it's top secret after all! :)
The next morning, as I got in line to register for the weekend, Sue grabbed my arm and asked me if I was able to check my email. Now my heart really started thumping. I felt for sure I did something wrong, that she didn't like it, that it wasn't what she wanted, etc. etc. etc.
Not to worry, turns out she liked it more in person than the pictures! I walked away and gave a huge sigh of relief!

When I got home, I was trying to explain to my kids and I said, "It'd be like if Lego asked you to post one of your projects online." And Andrew, my 13 year old says, "Oh mom, anybody can do that!"
I can always trust my kids to bring me back down to earth! HaHa
We had a great weekend. There were 70-80 of us, I never did get the final count. We met lots of new friends and got to sit with our Canadian friends. We only see them every two years, so we were glad to get to share a table with them.
My friend and I managed to hit 3 LNS's over the weekend. One on the way, one while we were there, and one on the way home. While we were there, we went to an itty-bitty shop that was stuffed to the brim with stuff! Course by the time 50-60 of us shopped at the same time, we were all much closer bonded! It was a tight fit, but I think we all managed to find something to spend our money on!!
And Sue invited 5-6 different people to come set up shops at the hotel! That was NOT a good idea! Well, I mean it was, but I might have spent a little too much money!
My family leaves in ten days to start two months of summer mission with teenagers. We're excited to get started and I have a million things to do to get ready. I got my stitching bag ready to go yesterday, but I highly doubt I'll get to much of any of it!
I bought some really neat smalls while on our stitching trip, had to move those straight to the top of the stitching list! Can't wait to show you!

See you around. Not sure when I'll get to post again.